Wednesday June 1st 2016
Another family destroyed by CJD, this case highlights the long incubation period that humans have regarding CJD. The Coroners remarks are mis-leading as CJD was passed on-wards to Noel by his donor who was either carrying or incubating the deadly disease,
Noel's donor would have been exposed to BSE infected material like millions of us UK and worldwide. There is a deliberate fudging of facts by various medical experts who are being influenced by government officials to keep the true facts and contamination levels of Human BSE out of the public domain.
Many  thousands  of people have contracted or been exposed to  human BSE via contaminated instruments during  operations, or blood,tissue, bone, organs from donors. 1 in 2,000 of in the UK now carry or incubate vcjd human mad cow disease, many of these carriers will be hospital patients, blood donors or organ donors.
We need a blood screening test for all patients so that we do not continue to re-cycle BSE into the human population via food, blood, medical proceedures and vaccines.
My thoughts and prayers are with Noel's family and friends.
This tragic case has only just be made public, so I was unable to blog about this until today.
I will continue to fight for justice for all victims of human BSE past, present and those unfortunately to come.
http://www.irishexaminer.com/ireland/fatal-cjd-contracted-during-brain-op-as-a-child-402617.html
Irish Examiner
Noel Kavanagh, aged 36, from Ballyragget, Co Kilkenny, lived a full life until he became ill in 2013 and died on October 20, 2014.
Thirty years previously, in July 1983, he underwent an eight-hour brain operation at the old Richmond Hospital on North Brunswick Street in Dublin. The neurosurgery followed a fall from a tractor in which Mr Kavanagh, then aged five, sustained a serious head injury.
He had a difficult recovery initially but subsequently improved and went on to live a full and busy life, Dublin Coroner's Court heard. He enjoyed running and played soccer and was involved in the Special Olympics.
He was able to manage independently and worked in a garden centre, the court heard.
He was enjoying life until May 2013 when he began to feel tired, listless and drowsy.
He was brought to St Luke's Hospital in Kilkenny and later transferred to Beaumount Hospital in Dublin. CT scans and a lumbar puncture were carried out and Mr Kavanagh was treated for an infection, thought to be a bacterial infection or meningitis, with antibiotics and steroids.
However, his clinical condition did not improve. He developed epilepsy and consultant neurosurgeon at Beaumont hospital Donncha O'Brien said a hemispherectomy — a rare surgical procedure where half of the brain is removed — was agreed as a treatment for persistent seizures.
During this procedure, brain tissue slides were taken and sent for analysis, revealing the presence of Creutzfeldt-Jakob disease or CJD. Mr Kavanagh had contracted CJD 30 years previously due to contaminated donor-graft tissue inserted during the neurosurgery performed at the old Richmond Hospital.
A post-mortem examination confirmed the diagnosis of CJD. The cause of death was brain changes due to CJD, related to the operation in 1983. Coroner Brian Farrell returned a narrative verdict setting out the circumstances of Mr Kavanagh's death. Dr Farrell said a variant of CJD emerged in the early 2000s related to burger meat but this case concerned infected donor tissue.
"This is a set of unfortunate circumstances. The initial head injury was not fatal, but during that treatment, Noel contracted the infection," he said.
Wednesday 13th April 2016
Reindeer in  Norway have been diagnosed with  prion disease the same as mad cow disease in cattle. Its the first official recognition of CWD in Europe Chronic Wasting Disease which is killing thousands of animals across the USA. CWD has been 'officially recorded' in 21 states across the USA. Many more deer are dying that are not being found or reported.
When will the USA and other governments admit that these cases of prion disease and CWD are in fact a direct consequence of BSE infection?
Norway residents eat bone-marrow from wild and herded reindeer as a delicacy, when will governments admit that many of the  rising cases of dementia in the global population can be attributed to exposure to BSE infected material?
http://www.vetinst.no/eng/Highlights/The-first-detection-of-Chronic-Wasting-Disease-CWD-in-Europe). The (found dead) adult doe showed signs of below average body condition and was tested as part of the national surveillance programme for CWD in wild ungulates. Prion disease was confirmed in mid-March by both biochemical and immunohistochemical tests.
Wednesday 30th March 2016
http://uk.reuters.com/article/us-france-madcow-idUKKCN0WQ15S
French cattle confirmed  as having BSE, cows/bulls never get mad cow disease in isolation the rest of the herd, siblings and parents of the affected animal may all be infected but not showing any symptoms. How many cattle have gone into the current food chain suffering from mad cow disease? How many more people will continue to die of the man made manufactured disease in the future? When will governments stop lying about this deadly disease that continues to enter the human food and medicine chain? When will many of the rising cases of dementia worldwide be attributed to exposure of BSE infected material, a preventable disease born, bred and exported from the UK?!
In the UK the government has decided no longer to test for BSE its down to passive surveillance which means farm workers have to look at a cow or animal and decide whether it may or may not have BSE before a vet is called in to check.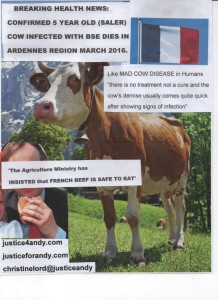 Just looking at a cow or bull in a field is no way to see if livestock have BSE. So cattle are still entering the food chain infectious with the deadly prions BSE that cause human mad cow disease vCJD
Tuesday March 15th 2016
'facts do not cease to exist because they are ignored' Aldous Huxley 1926-1929
Kenneth Clarke enabler of mad cow disease and Health Minister during the most lethal stages of the BSE epidemic has netted £430,000 in a book deal for his memoirs from publishers Macmillian.
The book titled ' Kind of blue' has been cited by  Ken Clarke's huge PR team, as Clarke using his incisive memory to explain and explore his political career. Despite the fact that during the BSE/Phillips inquiry Clarke could not remember vital information, the former QC has a very selective memory when cornered about his involvement in the BSE cover-up!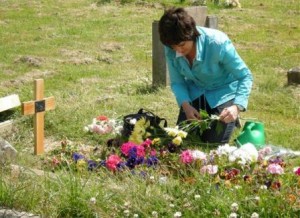 Christine at Andrews grave
All  newspaper articles about  Kenneth Clarke's huge book fee and terrible decision by Macmillian to reward the enabler of BSE, have airbrushed mad cow disease and its thousands of human victims out of history. There has not been one mention about the human form of mad cow disease and the fact that at least one million infected cows went into the human food and medicine chain., during Kenneth Clarkes tenure as Health Minister.
I am now following the editor of Macmillian on twitter and have been appalled at the grovelling prose and respect shown to Kenneth Clarke whose deliberate and criminal actions have led to thousands of deaths due to vcjd and millions of us exposed across the world to a lethal pathogen.
Kenneth Clarke celebrates his book deal!
Kenneth Clarke put his political career and the profits of the food and pharmaceutical industries before human health, my son Andrew paid the ultimate price with his young life dying of vCJD aged just 24.
I will continue to pursue Kenneth Clarke amoral man and liar whose criminal deliberate decisions during and since BSE had caused so many innocent deaths. The ongoing consequences  means that 1 in 2,000 of the UK population now carry or incubate human BSE. Because of our exports these figures are comparable globally. BSE has not gone away it continues to kill animals and people.
The UK blood supply and vaccines also remain at risk of ' vcjd' as does medical equipment in our hospitals. Neither are tested or screened for vcjd, human or animal BSE.
I am appalled that Kenneth Clarke and all those I name and shame on this website continue to gain financially from their corruption and criminal behaviour throughout BSE and since when they continue to lie and hide the truth surrounding the biggest political and health scandal of the 21st century.
However I have every hope with my investigations coming to fruition, that soon Kenneth Clarke and all those responsible for BSE and my beautiful boys unlawful death will face criminal charges in a court of law.
'In a time of deceit telling the truth is a revolutionary act."
George Orwell
Sunday 6th March 2016
Mothers Day
This is the ninth Mother's day, without my beloved boy Andrew, no card, present or more importantly a hug from my only son. I will never see his smile; hear his voice or laughter in this life ever again. I will never attend his wedding, hold his child in my arms or see Andrew walk into the future he should have had.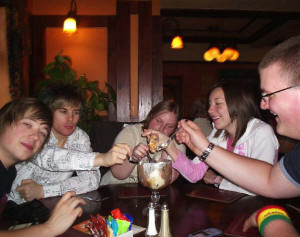 Andrew second left having fun with his friends
This is the everyday reality, and on-going grief and pain for all mothers who have lost their children to the human form of mad cow disease CJD.
I long to hold my son in my arms, time never heals the pain of his untimely and unlawful loss.
Miss you so much my beloved beautiful boy, my Andrew.
Mum xx
Tuesday March 2nd 2016
It has been eight long years since Andrew was unlawfully killed by vCJD the human form of mad cow disease. I remain heartbroken, time never heals when a parent has to bury their child.
I remain determined that those who killed Andrew  are punished in a court of law. This is not just a bereaved mothers quest but, also to protect the millions of us that have been exposed to BSE. The food our children and families  consume the medicines they ingest should be safe. Yet bovine material from cattle untested for BSE continue to be condoned by the UK and governments across the globe. Cattle continue to die of BSE and many infectious but not showing symptoms enter the human food and medicine chain.
1 in 2,000 of the UK population now carry or incubate this deadly avoidable man mad disease and across the globe the figures will be comparable. I do not want another mother or father, grandparent, sibling to go through the pain that I experience every single day and will do so till the day I die.
I have recently written a feature about Andrew and the grieving process in Woman's Own January 11th 2016. Below are the links to that article about on going grief. All of us will loose a someone close during our lifetime and its so important that people who are bereaved can talk about their lost loved ones. The response from the 3 million readers of Woman's Own has been terrific, I would value any feedback from visitors to this site and my blog.
Christine
'What will survive of us is love' (Poet Phillip Larkin)
Womans Own feature Christine page2
Friday 29th January 2016
How many cases of Dementia/Alzheimer's are really human mad cow disease?
 '1 IN 2,000 of the UK population now carry or incubate the human form of mad cow disease' Health Protection Agency 2012
http://www.nature.com/news/more-evidence-emerges-for-transmissible-alzheimer-s-theory-1.19229
There is growing evidence that many cases of dementia are in fact mis- diagnosed CJD. Millions of us globally have been exposed to BSE infected material. Millions now developing dementia would have been exposed to the same lethal pathogen as my son Andrew, who was unlawfully killed by human BSE in December 2007 aged 24.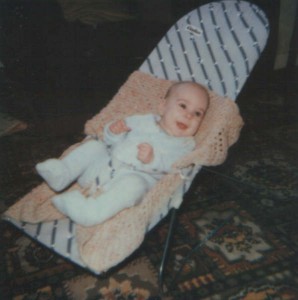 Hansard the archives of the UK Houses of Parliament, 24th July 2014, Science and Technology Select Committee is a report from an inquiry into the on-going risks of Human BSE within the UK and globally.
One of the inquiries many recommendations to the  UK Government was:
' Calls for government to back research into atypical dementia amid concerns that CJD is being misdiagnosed particularly in the elderly' (conclusions para 21) House of Commons Science and Technology Committee.
The global population is also being exposed to human mad cow disease BSE via medical instruments. As thousands of patients infectious with CJD but not showing symptoms are contaminating hospital equipment during medical procedures.
Currently world wide there is no efficient sterilisation procedure used in hospitals,clinics, medical centres that routinely clean instruments sufficiently to eradicate the deadly agent that causes human BSE/vCJD what also called ' prion disease'.
The report below highlights how cases of Alzheimer's are considered infectious. Many experts are now investigating and finding links between the growing cases of dementia world -wide and human BSE. How many cases of Alzheimer's/dementia are really vcjd? Brave scientists and experts who have spoken out about their research  have been threatened and then silenced many intimidated with funding cuts.
Governments globally continue to protect the huge pharmaceuticals/ food corporations and those named and shamed on this website, rather than protect public health.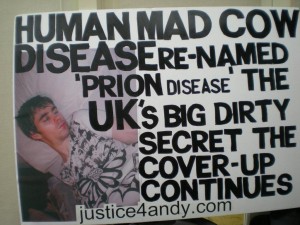 So millions of people suffering from dementia type symptoms will be denied the correct diagnosis and treatments, as authorities hide the truth about the ongoing lethal consequences of BSE to humans and animals globally.
Many cases of dementia will be the result of exposure to BSE infected material or via contaminated medicines, medical equipment, vaccines, blood, tissue, organs or medical procedures.
The authorities and their officials will continue to try and mask cases of   vcjd  human mad cow as dementia  instead of the preventable disease human BSE.
I urge all families affected by cjd or have relatives affected by dementia type disease to challenge, question the medics and get the answers and the correct treatments your loved ones need and deserve. Contact me with any information you may have as this will be essential to my investigations.
The truth is gradually surfacing and soon our loved ones will receive the justice and support they need. Join me with this campaign, lobby your MP, Senator, the media, speak out about your experiences to your neighbours and friends. Together we can get the answers and put those responsible  for the BSE epidemic into a criminal court.
This will finally help us all to move forward towards treatments and cures and to protect our children and grandchildren from the lethal consequences of  Vcjd/ Prion disease.
http://www.nature.com/news/more-evidence-emerges-for-transmissible-alzheimer-s-theory-1.19229
Monday 11th January 2016
This week I had a two page feature published in popular magazine 'Woman's Own' about Andrews campaign and my on going journey through grief. I wrote from the heart and talked about my experiences as a mother coping with loosing Andrew through vCJD and how grieving for a child is a life long journey of pain and memories.
With millions of readers the article has received a great deal of response from members of the public both in the UK and abroad.
Every time someone reads this blog, website, my book or articles  about human BSE it gives my Andrew and all victims of human mad cow disease a much needed voice, in an world where increasingly the vulnerable and ordinary citizens are being undermined and dismissed by the establishment.