Saturday 4th June 2011

It would appear from this paper to be published this month, that visitors from the USA to the UK have put themselves at risk of developing vCJD. This paragraph below from the paper highlights the risk that BSE/vCJD holds for the global community. With this blog is photo of 21 year old Billy Smith dying of vCJD.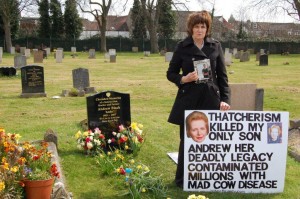 When myself, other families affected by vCJD and supporters of this campaign, demonstrate, investigate and confront those responsible for BSE/vCJD we do so on behalf of all of our brothers and sisters from the global family. John Gummer., Kenneth Clarke and those listed on this website must face criminal proceedings for the numbers of people who have been and will be affected by vCJD and the millions of us who were unlawfully exposed to BSE in the food and medicine chain. Food and medicine should be safe for our children and families to ingest.
'Travellers to the UK were more likely to have spent at least 30 days in the country (24.9%) compared to travelers to any other BSE endemic country. The prevalence and extent of travel to the UK indicate that health concerns in the UK may also become issues for US residents.'
NEWSWISE
CDC Assesses Potential Human Exposure to Prion Diseases
Released: 5/23/2011 3:35 PM EDT
Source: American Dietetic Association (ADA)
Newswise — Philadelphia, PA, May 23, 2011 – Researchers from the Centers for Disease Control and Prevention (CDC) have examined the potential for human exposure to prion diseases, looking at hunting, venison consumption, and travel to areas in which prion diseases have been reported in animals. Three prion diseases in particular – bovine spongiform encephalopathy (BSE or "Mad Cow Disease"), variant Creutzfeldt-Jakob disease (vCJD), and chronic wasting disease (CWD) – were specified in the investigation. The results of this investigation are published in the June issue of the Journal of the American Dietetic Association.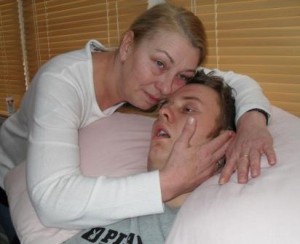 "While prion diseases are rare, they are generally fatal for anyone who becomes infected. More than anything else, the results of this study support the need for continued surveillance of prion diseases," commented lead investigator Joseph Y. Abrams, MPH, NationalCenter for Emerging and Zoonotic Infectious Diseases, CDC, Atlanta."But it's also important that people know the facts about these diseases, especially since this study shows that a good number of people have participated in activities that may expose them to infection-causing agents."
Although rare, human prion diseases such as CJD may be related to BSE. Prion (proteinaceous infectious particles) diseases are a group of rare brain diseases that affect humans and animals. When a person gets a prion disease, brain function is impaired. This causes memory and personality changes, dementia, and problems with movement. All of these worsen over time. These diseases are invariably fatal. Since these diseases may take years to manifest, knowing the extent of human exposure to possible prion diseases could become important in the event of an outbreak.
CDC investigators evaluated the results of the 2006-2007 population survey conducted by the Foodborne Diseases Active Surveillance Network (FoodNet). This survey collects information on food consumption practices, health outcomes, and demographic characteristics of residents of the participating Emerging Infections Program sites. The survey was conducted in Connecticut, Georgia, Maryland, Minnesota, New Mexico, Oregon, and Tennessee, as well as five counties in the San FranciscoBay area, seven counties in the Greater Denver area, and 34 counties in western and northeastern New York.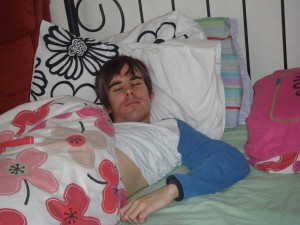 Survey participants were asked about behaviours that could be associated with exposure to the agents causing BSE and CWD, including travel to the nine countries considered to be BSE-endemic (United Kingdom, Republic of Ireland, France, Portugal, Switzerland, Italy, the Netherlands, Germany, Spain) and the cumulative length of stay in each of those countries. Respondents were asked if they ever had hunted for deer or elk, and if that hunting had taken place in areas considered to be CWD-endemic (northeastern Colorado, southeastern Wyoming or southwestern Nebraska). They were also asked if they had ever consumed venison, the frequency of consumption, and whether the meat came from the wild.
The proportion of survey respondents who reported travel to at least one of the nine BSE endemic countries since 1980 was 29.5%. Travel to the United Kingdom was reported by 19.4% of respondents, higher than to any other BSE-endemic country. Among those who traveled, the median duration of travel to the United Kingdom (14 days) was longer than that of any other BSE-endemic country. Travelers to the UK were more likely to have spent at least 30 days in the country (24.9%) compared to travelers to any other BSE endemic country. The prevalence and extent of travel to the UK indicate that health concerns in the UK may also become issues for US residents.
The proportion of survey respondents reporting having hunted for deer or elk was 18.5% and 1.2% reported having hunted for deer or elk in CWD-endemic areas. Venison consumption was reported by 67.4% of FoodNet respondents, and 88.6% of those reporting venison consumption had obtained all of their meat from the wild. These findings reinforce the importance of CWD surveillance and control programs for wild deer and elk to reduce human exposure to the CWD agent. Hunters in CWD-endemic areas are advised to take simple precautions such as: avoiding consuming meat from sickly deer or elk, avoiding consuming brain or spinal cord tissues, minimizing the handling of brain and spinal cord tissues, and wearing gloves when field-dressing carcasses.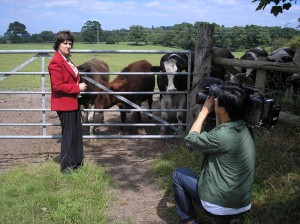 According to Abrams, "The 2006-2007 FoodNet population survey provides useful information should foodborne prion infection become an increasing public health concern in the future. The data presented describe the prevalence of important behaviors and their associations with demographic characteristics. Surveillance of BSE, CWD, and human prion diseases are critical aspects of addressing the burden of these diseases in animal populations and how that may relate to human health." 
The article is "Travel history, hunting, and venison consumption related to prion disease exposure, 2006-2007 FoodNet population survey" by Joseph Y. Abrams, MPH; Ryan A. Maddox, MPH; Alexis R Harvey, MPH; Lawrence B. Schonberger, MD; and Ermias D. Belay, MD. It appears in the Journal of the American Dietetic Association, Volume 111, Issue 6 (June 2011) published by Elsevier.
In an accompanying podcast CDC's Joseph Y. Abrams discusses travel, hunting, and eating venison in relation to prion diseases. It is available at http://adajournal.org/content/podcast.
American Dietetic Association (ADA)
Name and Address
American Dietetic Association (ADA)
News office:
120 S Riverside Plz., Ste. 2000
Chicago IL 60606-6995
United States
 

""Thursday 26th May 2011

THE NEWS PORTSMOUTH UK (Published – May 12th 2011)
Portsmouth mother calls on Prime Minster to launch probe in vCJD By Rachel HawthornA MOTHER who lost her son to the human form of mad cow disease has called on the Prime Minister to launch a criminal investigation into his 'unlawful death'.Christine Lord, whose 24-year-old son Andrew died from variant Creutzfeldt-Jakob Disease (vCJD) in 2007, led families to Downing Street yesterday to hand in a petition.Miss Lord says she has gathered evidence to suggest the BSE outbreak in cows, which was transmitted to humans through infected meat, was covered up and the government knew the dangers of people eating potentially infected beef.Miss Lord, from Southsea, said: 'We are telling David Cameron that we want a criminal investigation.I've been gathering evidence for a long time now, evidence from people who were called to speak during the BSE inquiry.'They're coming forward now and they've told us they knew about the dangers of eating infected meat and it was covered up.

'One top scientist has said all British beef was removed from government ships to protect scientists from BSE.

'Another has said the inquiry into BSE was stage-managed by the very people it was supposed to investigate.

'Maybe their consciences are pricking them now or they've retired and are thinking they should have done something at the time and want to put it right.

'But we have evidence there was a cover-up now and we want a proper independent investigation into our loved ones' unlawful deaths.'

The families also held a two-minute silence outside No 10, and laid a wreath in memory of the victims who have died from vCJD.

This is the second time in seven months that they have been to Downing Street. In November they handed in personal letters to Mr Cameron, calling for justice. But they received no response.

Monday 16th May 2011

As part of the demand for an independent criminal investigation into hundreds of unlawful vCJD deaths, thousands who are disabled due to contaminated blood and millions of us who have been exposed to BSE and it lethal human pathogen vCJD; we staged a peaceful sit in at the reception area of the Ministry of Justice.

This department is run by Kenneth Clarke and is based in Petty France, Westminster, Central London; it's a public building open to anyone who is walking by and has free access. Photos of christine and mothers inside the Justice Department. 

Dozens of mums, dads, grandparents, brothers, sisters who have lost a loved one to vCJD sat down in protest with me inside the Ministry of Justice. Alongside this blog are photos taken as events unfolded.The Police were kind but were ordered to take action from Ministers at the Dept of Justice. Members of the police have died of vcjd.

Despite sitting quietly in the reception area with our banners, not making a noise and behaving with impeccable manners and attitude, we were soon asked to leave. Many sharp suited security men appeared, those with high level clearance working at the heart of Kenneth Clarke's Machiavellian web of intrigue.

Campaigners some elderly pensioners were told the photos of their loved ones dying of Vcjd (all of which have been in the media) 'were distressing staff'. I would hazard it was making Kenneth Clarke and his minions guilty and afraid.

During the sit in I delivered two live radio interviews one for the BBC, in which I stated that the campaign members wished to have a face to face meeting with Kenneth Clarke and demand an independent police inquiry into our loved ones unlawful deaths. We were told repeatedly that no one would come and talk to us.

We sat in the building for 30 minutes and the police were then called by KENNETH CLARKE's offices to remove us from the building or arrest us. The police and the ordinary members of security at the Ministry of Justice were doing their job they had no choice.

The police and security officers sat down with us many with tear in their eyes when we recounted what had happened to our children and loved ones. They avidly took our leaflets, helped take our photos and were genuinely supportive of our aims and goals.

The majority of the police and armed forces remain a great support for the campaign as members of the serving police and armed forces have died of vCJD. The police and armed forces are also aware of the corruption and lies that enabled BSE and vCJD.

 

Their family members remain steadfast and helpful with our investigations and the gathering of evidence.

Campaigners left the building peacefully after being told if we didn't within five minutes some of the group would be arrested. We stopped the protest inside the Ministry of Justice with the clear understanding that if we continued our protest outside an official from the Ministry of Justice would come down and speak to us. We laid a wreath outside the department and had two minutes silence before I read out the hundreds of names of people who have died across the UK and globally of vCJD. The group of devastated mums and dads waited but no one ever appeared to talk to us once again 'lies had been told, to falsely reassure'.

With this blog is just some of the photos taken inside the ministry of justice as events unfolded.

I shook hands with all the police and told them that one day members of the police force would be handcuffing Kenneth Clarke and those named and shamed on this website and leading them into the dock in a criminal court of law, when they would be accountable for BSE. .

We left with the understanding that the police are there to respectfully serve the public to protect them and to make sure justice will be carried out.

'The dead cannot cry out for justice it's the duty of the living to do so for
---