Tuesday 24th September 2013
Check out the link below to a two page feature in newspaper the Sunday Post. It's a shocking account about CJD and how families are bullied not to speak out.
These mums and dads who had to watch their son or daughter die of vCJD, human BSE were warned not to go to the press or even tell their neighbours that their son or daughter had vCJD.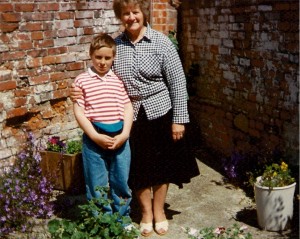 Since I returned from Italy I have also been interviewed for the Bill Padley show on RadioTalk Europe the largest English speaking radio station in Spain. It has over 500,000 listeners. The presenter Bill was very warm and talked at length about my book and asked me a great deal about my experiences nursing my son Andrew through his last horrific days. It was a very moving interview and at times I struggled not to cry, especially when I extract from the book where Andrew looked at me and said 'you will make me better mum.' With this blog is a photo of Andrew aged 10 taken with his grandmother.
Time doesn't heal but I have been overwhelmed with the kindness and positive response to my book, each and every one sold is a louder voice for Andrew and all victims of vCJD. It's also a step closer to the resolution we as families so need, justice and those responsible for BSE and its lethal human pathogen vCJD brought to account.
http://www.sundaypost.com/news-views/uk/cjd-killed-our-son-now-he-s-not-even-a-statistic-1.133595
Monday 23rd September 2013 
I have just returned from Italy, where I met families affected by the human form of mad cow disease, vCJD.
Italian Mother Maria Luisa Ventriglia lost her son Gian Luca aged 32 in 2009, the family live in Caserta just outside of Naples.  She has written an account of her son's death called Nero su Banco (black and white) and I would urge everyone in Italy to read her shocking account.
The Gianluca foundation held an event in Naples in which Maria's book and mine were showcased. Extracts in Italian from my book, who killed my son? were read out whilst accompanied by a solo violinist. I found it incredibly moving and my welcome from families and the Italian people was amazing.
During my stay in Italy I was able to listen to families accounts of nursing their loved one through vCJD and hear how they too have experienced cover-up and lies surrounding BSE and the human form vCJD. It would appear across the world governments are hiding the true number of people who have and are dying of human BSE. Once again big business and making money for the agriculture and pharmaceutical corporations are paramount. The UK at the height of BSE exported cattle, animal feed and food sourced from UK BSE infected herds.
There have been many cases of vCJD in Italy but families continue to remain isolated as they are informed 'your son/daughter is the only one to develop vCJD'. These sinister tactics are also used constantly by officials from the UK department of Health and Westminister to isolate families and individuals affected by human BSE.
I will continue to challenge, travel and meet families and gather evidence and information. Justice for all vicitms of vCJD.
Wednesday 18th September 2013
NUJ National Union of Journalists Magazine  
http://www.nuj.org.uk/news/who-killed-my-son/
Who killed my son?
18 September 2013
NUJ member Christine Lord watched her journalist son Andrew Black die of vCJD – the human strain of so-called 'Mad Cow Disease' – at the age of 24.
She promised him on his death bed that she would find out how and why he had become infected and who was to blame. The result is a book which outlines her subsequent campaign justice4andy.com, which she argues uncovers a shocking degree of institutional corruption, incompetence and deceit.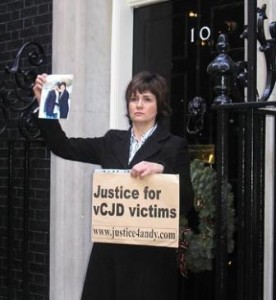 Throughout the 1980s, top-ranking politicians continually told the public that British beef was 100 per cent safe, she said. She claimed:
"They were more interested in protecting the profits of the British beef industry than the safety of the British people."
At an event at Headland House, NUJ headquarters to launch the book, "before and after" photographs showed how, in a matter of months, vCJD reduced a fit and good-looking 20-year-old to a bald, pale, skeletal invalid who looked closer to 70. There is no cure for vCJD.
The meeting also revealed the political and medical establishment's mistreatment of victims' families.  Christine claims there is a pervasive ignorance within the NHS about vCJD, and coroners are reluctant to name the disease on death certificates. For this reason, Rose Smith, whose son Billy was repeatedly misdiagnosed before succumbing to vCJD, described the official UK death toll (176 people since 1990) as not worth the paper it's written on.
Christine said relatives are often warned not to speak to the press about their experiences and that she received dozens of anonymous threats while researching the book.
Shirley Warne, who lost her ultra-fit son Chris in 1997, attended the 2000 BSE inquiry. Christine believes key evidence was concealed and witnesses were put under pressure to toe the government line. At the end of the inquiry, government scientists celebrated in a less-than-sensitive manner: they cracked open bottles of champagne right in front of Shirley and other grieving relatives.
Christine told the meeting that her book, which is available on Amazon, may be the breakthrough the campaign needs, as previously the media has dismissed vCJD as an old story. She said:
"In reality the issue is still very relevant. New cases are being reported, some in people who only started living in the UK after the official ban on meat and bone meal feed in 1996. Thus BSE still exists in the UK. In 2011, the Health Protection Agency UK announced that at least 60,000 people could be incubating vCJD. That should worry us all."
 Friday 13th September 2013
Within two days of my book,' Who killed my son?' being launched my e-book was named number one best seller on Amazon. My real life story using my diaries about Andrew, his life, horrific death due to human BSE and my fight for answers even toppled Phillipa Gregory off her top number one spot. My e book ranked 33rd out of all UK titles, unheard of from a first time author. Here is a photo of me and Andew December 1984,, when he was just 15 months old, 25 miles away in west sussex cows were dying of BSE.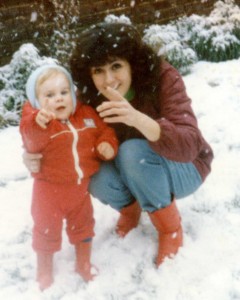 Please continue to buy my book as each copy downloaded creates a louder voice for Andrew and all victims of cjd. Purchases all help to keep my campaign on track and support families and victims of CJD across the UK and globe.
Here is also  a photo of me filming at Pitsham Farm, West Sussex, UK. Where in December 1984 the first cows were offically recorded with BSE by government scientists which was kept secret from the public for many years. Andrew was just 15 months old.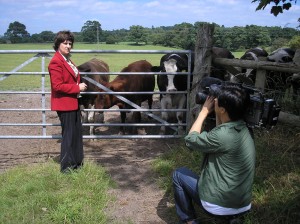 Below is a link to the book and also some of the huge press coverage as the media and public became more and more shocked about the revelations and names I expose in 'Who killed my son?' I appeared on BBC1 flagship morning news programme Breakfast and was interviewed by presenter Roger Johnston, this has generated huge amounts of emails including from new families affected by vCJD and people at the heart of the BSE scandal coming forward to help me with my inquiries.
http://www.amazon.co.uk/s/ref=nb_sb_noss?url=search-alias%3Daps&field-keywords=who+killed+my+son+by+Christine+LORD+
http://www.dailymail.co.uk/news/article-2413564/Who-killed-son-Mothers-year-battle-truth-mad-cow-disease-24-year-olds-deathbed-plea-justice.html
http://www.mirror.co.uk/news/real-life-stories/mad-cow-disease-cover-up-mum-2254529
http://www.itv.com/news/meridian/story/2013-09-06/mother-claims-mad-cow-cover-up/
http://www.portsmouth.co.uk/news/health/local-health/book-s-claims-over-mad-cow-disease-cover-up-1-5468050
Tuesday 10th September 2013
My book, who killed my son? Has gone mega and was named number one best seller on Amazon e-book. My real life story ranked 33rd out of over 650,000 e-book titles in the UK. Thank you so much for your support, every book sold makes my late son Andrew's voice louder and supports all victims of vCJD and their family's quest for justice.
I appeared on BBC1 Breakfast TV on Sunday and have been interviewed by numerous TV Radio and newspapers, below are just some of the links.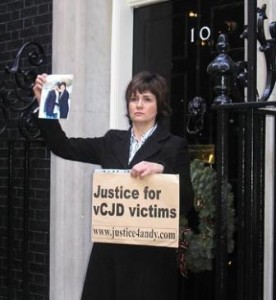 With this blog is a photo of me handing in one of my many petitions and letters to the Prime Minister David Cameron, who has repeatedly refused to meet with me and families affected by vCJD. My book exposes those responsible for BSE and its human pathogen vCJD and why my son should never have died. Why won't Mr. Cameron meet with me and hear my story and acknowledge the cover-ups that took place during the 1980s and1990s when Conservative PMs Margaret Thatcher and John Major were in power? My investigations are backed with eye witness accounts, facts, secret documents and thorough research. Yet there continues to be a resounding silence from Westminster and the cabinet. This mother will not be silenced! She will keep uncovering and revealing the cankered core within Whitehall and its individuals who unleashed a deadly toxin BSE onto a public that were then duped into eating BSE infected material for over a decade.
http://www.dailymail.co.uk/news/article-2413564/Who-killed-son-Mothers-year-battle-truth-mad-cow-disease-24-year-olds-deathbed-plea-justice.html
http://www.mirror.co.uk/news/real-life-stories/mad-cow-disease-cover-up-mum-2254529
Friday September 6th 2013
My book is featured in a two page article in the Daily Mirror today, see link below. I have been interviewed by the media across the UK and also international press. My book, Who killed my son? is now available on amazon to download as I wanted as many people as possible to read the book, Too long victims and their families have been intimidated and silenced by the British Government its now time for all those exposed to BSE to have a loud and clear voice. Justice for andy and all victims of human BSE.
http://www.mirror.co.uk/news/real-life-stories/mad-cow-disease-cover-up-mum-2254529#comments
Thursday 5th September 2013
Great reviews for my book 'Who killed my son?' on amazon, see link below each book bought  becomes  a louder voice for my  latre son Andrew and all vicitms of vCJD. Thank you all for your ongoing support.
http://www.amazon.co.uk/s/ref=nb_sb_noss?url=search-alias%3Daps&field-keywords=who+killed+my+son+by+Christine+LORD
Monday 2nd September 2013
If Andrew had lived he would have celebrated his 30th birthday today, I would have arranged a special meal and he would have been surrounded by his family, friends and dear colleagues.
I gave birth to a perfectly healthy baby Andrew grew into a strong teenager and totally healthy young man with the world at his feet, and a wonderful future ahead.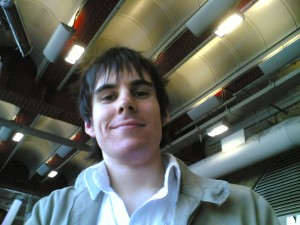 Instead my son lies in the ground dead at 24 years of age due to the human form of mad cow disease.
The gift I am able to give my son is my ongoing fight for the truth and justice for all victims of vCJD. Another is my book, called 'Who killed my son? published this month,  my book is a lasting tribute to an honourable young man who never had the chance to mature or grow older. 'Who killed my son? Is the book the British Government did not want the public to read, they have tried to silence me and my investigations over the last five years.
Today I will make my way to the cemetery place flowers on Andrew's grave and then release balloons in his memory. Andrew on his death bed asked me;
'Find out who did this to me mum and expose them' and always thinking of others 'this must never happen to anyone else again.'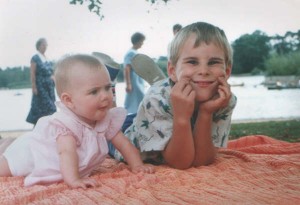 I continue to honour those promises I made to my beloved only son as he died, there is no sell by date to a mother's love. I miss you so much Andrew……and have and continue to shed a river of tears for all those years you should have lived and enjoyed. My beloved boy, you died far too soon.
'What will survive of us is love' (Phillip Larkin, English Poet)
Friday 23rd August 2013
Yet another young life is being destroyed by human BSE, Ritchii Kara from Brighton aged just 28 years old has been diagnosed with vCJD.
What a brave young guy to talk to the press about his condition. How many more innocent lives will be lost, my forthcoming book exposes the truth behind the BSE scandal and how it should never have existed in humans.
My thoughts are with Ritchii, his loving parents and his wonderful supportive friends.
http://www.dailymail.co.uk/health/article-2400770/Vegetarian-28-given-just-months-live-diagnosed-Mad-Cow-Disease-caught-stopped-eating-meat-years-ago.html
Ritchii Kara, Vegetarian Has Months To Live After 'Mad Cow' Creutzfeldt-Jakob Disease Diagnosis
Huffington Post UK | By Sara C Nelson Posted: 23/08/2013 12:32 BST | Updated: 23/08/2013 12:48 BST
Creutzfeldt-Jakob Disease, Mad Cow Disease, UK NEWS, UK News A 28-year-old vegetarian has just months to live after being diagnosed with variant Creutzfeldt-Jakob Disease (CJD) – otherwise known as 'Mad Cow disease'.
Ritchii Kara, who stopped eating meat five years ago, had been experiencing headaches and loss of balance for four years, which doctors had put down to stress.
But in 2012 he was confirmed as suffering from variant CJD and given 14 months to live.
Ritchii Kara stopped eating meat five years ago but has just months to live after being diagnosed with variant Creutzfeldt-Jakob Disease
Kara told The Argus: "My memory's bad and so is my coordination and sometimes I can't see. I get hallucinations sometimes, which is part the disease and part the medication."
Kara had to give up work as a barman at Brighton's Queen's Arms pub because he was losing his balance and memory, but still occasionally performs there as a drag act.
And now the pub is holding a charity event on 31 August to raise funds for further research into the disease.
Pub manager Kevin Calladine told Huffington Post UK: "Ritchii wanted to do the event to raise awareness of the disease.
CJD is thought to have passed to humans through beef products infected with bovine spongiform encephalopathy (BSE)
"I was very upset for him. It's sad and it's emotional but I try very hard to keep it real for him. I treat him like I always have and I know he finds a bit of solace in that. "
Kara adds: "It's harder for my parents because I think they feel quite powerless. They said to me, 'Oh we want to you to move home and to look after you', but I'm just not ready to stop everything yet.
"I think if you're just going to sit about and be sad, what's the point in going on anyway?"
The disease is caused by an abnormal protein called prion, which contaminates the nervous system, causing irreversible brain damage.
It is believed to have been passed to humans through beef products infected with bovine spongiform encephalopathy (BSE), the Brain Research Trust explains.
Variant CJD, which as in Kara's case mostly affects people in their mid twenties, appears linked to BSE, though CJD can also occur naturally in humans.
The disease has been linked to the deaths of nearly 200 people in Great Britain who consumed meat from infected animals in the late 1980s. Since the link between variant CJD and BSE was discovered in 1996 there have been strict controls to prevent meat from infected cattle from entering the food chain.
There is no treatment for the disease, which is always fatal. It is characterised by loss of memory, balance and coordination, slurred speech, visual problems and blindness, abnormal jerking movements and progressive deterioration of immobility, the NHS states.
http://www.huffingtonpost.co.uk/2013/08/23/ritchii-kara-vegetarian-mad-cow-creutzfeldt-jakob-disease_n_3803416.html?utm_hp_ref=uk&just_reloaded=1
Saturday 3rd August 2013
As I write this on a lovely summer day with England's countryside in full bloom another family is struggling to come to terms with their loved one dying of vCJD.
Yet another UK resident has become a victim of BSE, their traumatised family trying to understand how the human form of Mad Cow Disease continues to maim and kill people in August 2013. It is  twenty nine years since  the first  UK cow was officially recorded with BSE at Pitsham Farm West Sussex UK (December 1984). BSE in humans can have between ten and forty year's incubation periods. Latest research suggests that up to 60,000 of us in the UK may carry the lethal disease, vCJD.
Vegetarians and strict Hindus who cannot eat any part of the cow due to their religious faith have succumbed to vCJD. BSE infected material from cattle flooded the human food and medicine chain, from contact lens solution, to HRT, vaccines, baby food, school meals, soups, pies and patties, all of these and more were produced using bovine material from UK BSE infected  herds during the 1980s and 1990s.
My prayers and thoughts are with this latest victim and their family, colleagues and friends. Food and medicines should be safe and never kill. Yet the UK government allowed BSE infected material from UK cattle to feed and medicate our nation for nearly fourteen years (1983-1997), as well as exporting this toxic material globally.
How many more innocent lives will be lost in the coming years?
Tuesday July 23rd 2013 
Here is a wonderful comment sent in from a young woman studying veterinary medicine in South Africa. (See below) Zoonotic diseases are transmissible infections between animals and humans.
Andrew's BBC1 documentary and the campaign continues to inspire, educate and challenge. His memory held dear by me and the millions of people who have watched and been moved by the documentaries and website. Together we form a strong and impenetrable alliance; together we will expose the truth behind Mad Cow Disease and get justice for my son and all victims of human BSE, and the millions of us expose to the lethal pathogen vCJD.
Hi Christine
I am a veterinary student in South Africa.
Today during our Public Health lecture on zoonotic diseases we watched your documentary about Andrew. The whole class was silenced by your story. It had a really big impact as one student looked at another and said a silent prayer of thanks for the privilege of a healthy life as a 24year old.
We have not been affected by BSE and CJD as you have in the UK but have studied it both from a veterinary and human health perspective as many of us will go on to practice or have some experience abroad.
I feel the veterinary industry has great potential to make a difference to this cause. Your story has inspired us all to be more active in the prevention and treatment of this disease. Thank you
Kind regards
Karen van der Walt
Monday 15th July 2013 
Below is a link and extract from a feature in June's edition of the magazine called 'What the Doctors don't tell you? Titled BLOOD ON THEIR HANDS: 'UK Blood banks may be contaminated by deadly vCJD from blood donated by silent carriers of the disease.'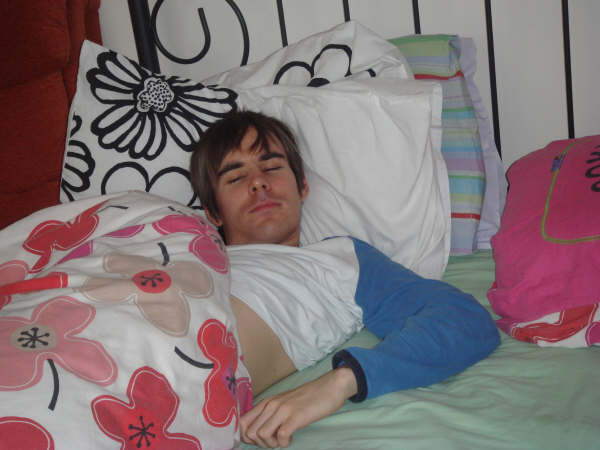 The feature exposes the fact that the human form of Mad Cow Disease continues to be a threat to millions across the UK and global community. Tens of thousands of us may well be silent carriers and donated blood is not screened for vCJD.
http://edition.pagesuite-professional.co.uk/Launch.aspx?EID=f8662ac7-40d7-4501-b88c-623027ef51d4
Extract from the article:
A cover-up?
Christine, a freelance journalist, has become convinced there is a massivecover-up at the heart of the mad cow or BSE (bovine spongiformencephalopathy) scandal, with government officials allowingcontaminated meat into the human food chain. She says she has receivedthreatening phone calls, including the ultimatum to take down hercampaigning website, while government agents who have tried to help her have suddenly been gagged by the Official Secrets Act. "I'm not worried. What more can anyone do to me? I've lost my son, and he asked me just before he died to find out why this had been allowed to happen to him," she says.