Friday 27th April 2012

Below is information released by the USDA regarding another case of BSE in US cattle found at a rendering facility in California. These rendering plants produce the equivalent of MRM mechanically recovered meat which is then used for free school meals and to supply food for cheap burgers and patties.
What is very strange is just a few weeks ago three people were diagnosed with CJD in the same part of Amercia. Initial media reports stated the victims all from the California area had succumbed to the 'human form of mad cows disease' but this was then down graded by the US health authorities as being the sporadic kind of disease. As I have questioned many times, why are there clusters of cases of cjd in the same areas that cattle are also found suffering from BSE?
AND Why are cases of sporadic or classic forms of CJD rocketing in direct correlation with incubation periods of the BSE infectious material appearing in the animal and human food chain? These questions and many more should be addressed!
Tuesday, April 24, 2012
MAD COW DISEASE USA 4TH CASE DOCUMENTED ATYPICAL BSE CALIFORNIA
BSE found in central California, USDA confirms
Greg Henderson, Editor, Associate Publisher, Drovers CattleNetwork | Updated: April 24, 2012
America's fourth case of bovine spongiform encephalopathy (BSE) was confirmed today in a press briefing by the USDA. John Clifford, USDA's chief veterinarian, said a dairy cow expressing an "atypical" case of BSE was found at a rendering facility in central California and the carcass is being held under State authority and will be destroyed.
Clifford said the animal was never presented for slaughter for human consumption and was never a risk to enter the food supply for human consumption. Additionally, it was noted, milk does not transmit BSE. This is the first case of BSE found in the United States since December 2003.
Cattle futures markets locked limit down shortly before trading ended Tuesday as rumors of the BSE case circulated through the trading floor.
Clifford emphasized the safeguards in place to protect America's food supply from BSE. "The United States has had longstanding interlocking safeguards to protect human and animal health against BSE. For public health, these measures include the USDA ban on specified risk materials, or SRMs, from the food supply. SRMs are parts of the animal that are most likely to contain the BSE agent if it is present in an animal. USDA also bans all nonambulatory (sometimes called "downer") cattle from entering the human food chain. For animal health, the Food and Drug Administration (FDA) ban on ruminant material in cattle feed prevents the spread of the disease in the cattle herd.
Clifford said the U.S. will share laboratory results with international animal health reference laboratories in Canada and England, which have official World Animal Health (OIE) reference labs. "These labs have extensive experience diagnosing atypical BSE and will review our confirmation of this form of the disease. In addition, we will be conducting a comprehensive epidemiological investigation in conjunction with California animal and public health officials and the FDA."
Clifford also emphasized this new BSE case "in no way affects the United States' BSE status as determined by the OIE. The United States has in place all of the elements of a system that OIE has determined ensures that beef and beef products are safe for human consumption: a mammalian feed ban, removal of specified risk materials, and vigorous surveillance. Consequently, this detection should not affect U.S. trade.
http://www.cattlenetwork.com/BSE-found-in-central-California-148737145.html
Mad Cow Disease Found In California: What Are The Risks To Humans?
Posted: 04/24/2012 5:35 pm
The United States Department of Agriculture has just confirmed the country's fourth case of mad cow disease, according to news reports.
The case was a dairy cow in central California, Reuters reported.
However, HuffPost Food reported that the cow had not entered the food chain so humans are safe in terms of consuming dairy products or beef.
According to the USDA statement:
It was never presented for slaughter for human consumption, so at no time presented a risk to the food supply or human health. Additionally, milk does not transmit BSE.
While the prospect of mad cow disease in America is scary, Cornell expert Martin Wiedmann said that the discovery of the cow is actually a testament to how good the testing for mad cow is in the U.S.
"The natural reaction is that it's a problem [they found this cow], but really they did a lot of testing and we were able to prevent this animal [from entering the food system] through testing," Wiedmann told HuffPost. Wiedmann is a professor of food science and a doctor of veterinary medicine, and is also the director of the Cornell Milk Quality Improvement Program.
Mad cow disease is also known as bovine spongiform encephalopathy, or BSE. It is a neurological disease that occurs when a prion protein damages the brains of cattle, according to the Centers for Disease Control and Prevention.
The CDC reported that there have been 22 cases of mad cow disease in North America up until February 2011, with three cases in the U.S. and 19 cases in Canada.
Mad cow disease is potentially dangerous for humans because it is linked with a human form of the disease called variant Creutzfeldt-Jakob disease (vCJD); evidence is strong that humans may develop the disease by eating meat from cows that had mad cow disease, according to the World Health Organization. There have also been four cases linked with blood transfusion, though the symptoms didn't manifest until years after the transfusion, according to the WHO.
There is a "relatively good link" between mad cow disease and variant Creutzfeldt-Jakob disease, Wiedmann said, though it's not 100 percent guaranteed that if a person eats the meat he or she will develop vCJD. And especially with this newly discovered single case of mad cow disease in the U.S., "the risk is excessively low, close to nil."
Variant Creutzfeldt-Jakob disease causes a degeneration of the brain, and a person may first notice signs of it by experiencing depression, anxiety and painful senses. As the disease progresses, it causes symptoms like problems with walking and causing involuntary movements, according to the WHO, and when a person is about to die from the disease, it causes muteness and immobility.
Variant Creutzfeldt-Jakob disease is not the same disease as classic CJD; classic Creutzfeldt-Jakob disease, which is also a prion disease, is not at all linked to mad cow disease, the CDC reported.
Classic CJD often occurs just on its own, with about one case occurring for every million people each year in the U.S., according to the CDC. The risk of this form of the disease increases as people get older. (For more on classic CJD, click here.)
For example, the CDC reported that the median death age for variant CJD is 28, while it's 68 for people with classic CJD.
http://www.huffingtonpost.com/2012/04/24/mad-cow-disease-variant-creutzfeldt-jakob-disease_n_1450195.html
---
Friday 20th April 2012
Protesters from justice4andy campaign made their thoughts clear about Justice Minister Kenneth Clarke in Brighton yesterday, where he was giving a speech about Human Rights. Despite high security, protestors were able to speak to many delegates and state loud and clear Clarke's culpability regarding the deaths of victims of vCJD, and the thousands Clarke allowed to be afflicted by contaminated blood. The police as usual were sympathetic and helpful to our aims as members of the constabulary have also been stolen by vCJD. Kenneth Clarke as usual stayed behind closed doors refusing to meet family members, it appears the bluff and supposedly strong minded minister is rather a wimp when faced with the truth.
I would like to thank organiser of the demonstration Josephine for all her efforts as a concerned member of the public, she has not been affected by the human form of mad cows disease. But, like many of the UK public is angry and enraged that her children have been exposed to BSE. Intelligent and kind Josephine has worked tirelessly for the campaign as she recognises like thousands of our supporters that the cover-up that killed my Andrew could so easily have affected her own family.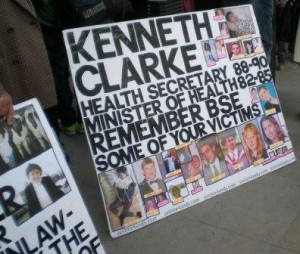 Kenneth Clarke Conservative MP who was Health Minister during BSE took the stage at the conference and pontificated about Human Rights and our legal system. His statement was another defeat for his right wing views that want to see the ordinary man and woman in the street under the thumb of ever tightening political rule. During its current tenure the Conservative led government with pressure from Clarke have tried so far without success to radically revise the Human Rights criteria, which would have been to the detriment of many individuals in the UK.
Since taking up his job as Justice Minister Kenneth Clarke with the right wing cabinet firmly in his pocket, has tried his best to block every avenue of legal redress for victims of vCJD and those affected by the disease. Clarke is running out of time and knows that criminal proceedings against him regarding his wrongdoing, lies and corruption during and since BSE is fast approaching. Like a petrified rabbit in the headlights Kenneth Clarke is using his position and every ounce of his influence to stop any inquests, court cases, or inquiries connected with vCJD/BSE from being heard in public or open to the press. Clarke is pushing forward the Justice and Security Green Paper which though it should be just about keeping the UK safe from terrorism has the ability to silence every wrong doing the Conservative party has done in the past, currently or future.
Clarke's green paper with its over arching powers could silence any court case, inquest, inquiry or evidence which Kenneth Clarke or the UK Government ' deem sensitive' by being held 'in camera' in secret with no public or press access.
I am appalled that a man who is criminally implicated in so many unlawful deaths continues to have such influence and has the hypocrisy to talk and make statement's regarding human rights and justice.

Supporters of Justice4Andy.com and myself remain steadfast in our pursuit of the truth and will run those responsible for the killing of so many innocent people and the disablement of thousands to ground. . We will continue to pursue Kenneth Clarke observe his every move, track his failing career until he and his cronies face criminal proceedings and an open justice system that Clarke is trying so hard to dismantle.
'The dead cannot cry out for justice, it's the duty of the living to do that for them.'
---
Tuesday 17th April 2012

The article below highlights how serious the EU regards the reclaiming of discarded and waste meat. From the end of April there will be a ban on bulking up burgers, sausages and cheap meat products with reclaimed and waste meat in the UK. Decades after experts warned that 'mechanically recovered meat' transmits BSE to humans its only now in 2012 that the EU have finally forced the UK Government to ban this product from human consumption. UK Lamb and beef have been used continually to make re constituted mince, both these UK animals continue to suffer from scrapie and BSE and yet these diseased creatures have fed our families for decades.
The feature online from the Daily Mail is foolish in its negative stance towards the EU policy, stating that food prices will rocket. The Mail journalist suggesting that already hard pressed families will suffer even greater financial problems. I am sure no matter how low a parent's income they would not like their child or family member to die of vCJD.
I am appalled that waste meat/reclaimed meat is still being used to feed our families and children as many experts believe this is what killed my Andrew. MRM mechanically reclaimed meat now re branded DSM 'dis sinewed' meat, is reclaimed from the bones and the discarded carcass of an animal. This vile pink mixture is something that no supermarket or restaurant wants but is used indiscriminately by food factories to bulk up burgers, sausages, pies and the lower end of the market food stuff, including cheap mince. DSM does not have to be labeled so the consumer is unaware of its origins and how close this process is to MRM which resulted in people becoming infected with the human form of BSE.
DSM material comes from the most infectious parts of an animal, where any disease would be dormant or active.
All waste meat and mechanically reclaimed meat should be discarded as it's not fit for human consumption; this material also harbours BSE a disease that is still found in UK herds.
This article appears to be written from a government bias as many Tory shareholders, their families and friends make huge profits from reclaimed meat. I have traced back many Conservative Ministers and their family's interests in the factories that produce cheap food using DSM so their agendas are purely partisan and not coming from a duty of care. These profit hungry Conservative officials are more interested in keeping their returns buoyant than the health of the UK population.
The UK Food Standards Agency has been forced to capitulate and I am appalled that an organization that is supposed to keep public health and safety paramount is more interested on profit.
The EU and its policies can be bureaucratic and overloaded but this time they have it correct and I whole-heartedly support this policy as it will help save lives and hopefully prevent future deaths of vCJD through food.
THE MAIL ONLINE 5TH April 2012
Is this the end of the cheap burger? EU diktat on low-quality meat means prices are set to soar
* Ban on bulking up fast food with reconstituted mince to be introduced at the end of the month
* Food Standards Agency risked ban on the export of British meat products if it did not comply
By Fiona  Macrae Science Correspondent
The price of burgers, sausages and pies is to rocket because of an EU ban on low-quality meat.
From the end of this month, there will be a ban on bulking up fast food and supermarket value ranges with reconstituted mince made from scraps of beef and lamb.
The move will hit the shopping budget of already hard-pressed families and lead to more meat being wasted in abattoirs.
Endangered: An EU ban on low-quality meat could spell the end for the cheap hamburger
The Food Standards Agency, which risked a ban on the export of British meat products if it did not impose the Brussels-driven ruling, stressed that the change is not being made because of health or safety issues.
Instead, it is the result of a disagreement over the definition of the so-called 'desinewed meat'.
But the meat-processing industry accused the FSA of 'bowing down' to the European Commission and warned of price rises and job losses.
Health drive: Jamie Oliver's campaign for junk food to be banned from school canteens means desinewed meat features less in school dinners
Stephen Rossides, director of the British Meat Processors Association, said: 'This is a criminal waste of a valuable food product at a time when we are being urged to reduce food wastage. Common sense has gone out of the window.
'If economic principles apply, the cost of the burger will rise and it is going to be the less well-off who are affected at what is already a bad time.'
The row surrounds desinewed meat, or DSM.
This is meat that is left on bones and carcasses after slaughter. Rather than going to waste, it is grated off mechanically, creating a mince-like substance.
Jamie Oliver's high-profile campaign for junk food to be banned from school canteens means DSM features less in school dinners than in the past.
But it is widely found in inexpensive meat products on sale in fast food restaurants and in supermarkets, where it is used to bulk up the meat content at low cost. The FSA sees DSM as being a different product to a second type of reconstituted meat, called mechanically separated meat, or MSM.
The higher pressures used in the MSM process means that while it is considered acceptable for chicken and pork, it is not deemed usable for beef and lamb, for fear of spreading diseases such as BSE.
However, the European Commission says DSM and MSM are one and the same.
Under this interpretation of the law, it will no longer be possible to put beef or lamb through even the gentler DSM processing.
Existing products will not be recalled but any foods that contain reconstituted beef or lamb will have to be reformulated.
The cheap desinewed meat in burgers will have to be replaced with more expensive cuts.
Chicken and pork carcasses can still undergo DSM processing but any foods they are put into will have to be clearly labelled.
Currently, DSM's classification as meat means it counts towards the total meat content of a product and does not need to be listed separately on the label.
There are fears that the changes will push up the cost of some meat products so much that shoppers stop buying them, leading to job losses in Britain's £6billion meat industry.
The British Meat Processors Association estimates that the total cost to the consumer and industry of the moratorium could reach £200million.
Describing the ban as 'madness', Mr Rossides said: 'All this has happened at breakneck speed. The industry must be given time to adjust to any change in requirements and market circumstances in a controlled and properly managed way, in order to minimise market disruption and financial damage.
'People are going to have to reformulate products, repackage and relabel. I don't know that you won't see an English sausage any more but it may be that it's more expensive.'
The FSA said that if the dispute over classification can be resolved, the ban could be lifted. Its chief executive, Tim Smith, said the move had come 'unexpectedly'.
The Food and Drink Federation said it supports 'a pragmatic approach to the required changes, including a reasonable timeframe for the transition, to avoid disproportionate measures that could lead to meat being wasted, causing a significant impact on the environment and on the price and availability of meat raw material'.
A spokesman for the consumer watchdog Which? said that its research showed that shoppers want to know if they are eating desinewed meat and that clear labelling of food allows customers to make an informed choice.
Read more:  http://www.dailymail.co.uk/news/article-2125335/Is-end-cheap-burger-EU-diktat-low-quality-meat-means-prices-set-soar.html#ixzz1sHH3VRs9
---
Thursday 12th April 2012
Any vacation holiday or celebration is a time for many people to see friends, a break from work and share time with their family.
My Emma's birthday was during the Easter holidays she is now 22 years old the same age when her brother Andrew started to become ill with vCJD. Very soon my youngest child will be older than her big brother. This Easter there was no sharing of eggs with my son, no family meal with my Andrew instead I walked to his grave, cried and re iterated my promise that ' I will expose those responsible for his unlawful death'.
Time has only strengthened my resolve, capabilities, skills and expanded the evidence and support for the campaign there is no sell-by-date on a mother's love and need for justice.
---
Friday 6th April 2012

TaintedBlood and Manor House Group Press Release
HAEMOPHILIACS ACT TO PROTECT THEIR RIGHTS AGAINST CLARKE PROPOSALS
TaintedBlood and Manor House Group would like to inform you that Andrew March and a group of similarly dedicated campaigners have been working for some weeks on a legal case involving the failure of the Ministry of Justice to adequately publicise their consultation Green Paper on "Justice and Security".  We are pleased to announce that on Wednesday 4th April 2012 Andrew filed a Judicial Review in the High Court (Administrative Division) regarding this matter.
The Green Paper ostensibly concerns the widening of the use of CMPs (Closed Material Procedures) in cases concerning National Security, but that is not where the proposals end. It has become clear that the proposals in the Green Paper will affect civil cases – such as medical negligence cases – and also inquests and other types of hearing.
As we worked it became clearer and clearer how much the haemophilia community would be adversely impacted on, should this Bill become law. For example, if we went to court in future with a medical negligence case ¨for instance vCJD¨ then we could face blanket secrecy in the courtroom and our present right to an open and democratic hearing could be lost for ever.
---
Monday 2nd April 2012

Below is a request from the Red Cross in America asking people affected by cjd and family members to give blood samples to test for the disease. The technology is there to screen blood and yet its remains a tool used behind closed doors and in secrecy. The US families and victims participating in this research have been told they will never be informed of its findings.
Though the Red Cross state these tests are not "certain", I understand that these tests are very accurate. I have been in contact with a variety of individuals suffering from neurological symptoms who with the support of their Consultants have had their blood screened for vCJD.
Many of these patients have given me documentary evidence of this testing and the results which included genotypes. So the test is being used proactively by scientists and medics across the USA and UK.
Why cant this research by the American Red Cross and many other similar projects taking place be open and transparent? This would dispel the many myths and fears surrounding the disease and give patients and their families the control and autonomy they need over their lives and illness.
Here in the UK over 350 people have donated their blood for many decades who have since succumbed to sCJD, Older people can present with having sporadic CJD when in fact it's vCJD the result of ingesting BSE infected material. Dozens of younger blood donors have also died of vCJD. This means hundreds possibly thousands of recipients of this blood/blood products/vaccines/medicines derived from CJD victims blood donations have never been officially traced or informed. We face a ticking health time-bomb regarding secondary infection of CJD via blood. Hopefully publication of the findings by the American Red Cross will be forthcoming and open to public and press scrutiny. It's a pity that any individuals taking part in this research will not be given the choice to know whether they carry or incubate the disease as it could mean they will continue to give blood with the potential to pass on and re cycle the disease.
REDCROSS REQUEST USA March 2012
The American National Red Cross (Red Cross) Jerome H. Holland Laboratory for Biomedical Research in Rockville, Maryland is collecting small volumes of blood from patients afflicted with various forms of transmissible spongiform encephalopathy¡¯s (TSE)/prion diseases and their blood-related family members. The purpose of the research is to build a blood sample repository for studies on ways to detect the presence of prion protein or other markers of the disease in human blood.
Recent epidemiological evidence indicates that blood of patients with variant form of Creutzfeldt-Jakob disease (vCJD), that is prevalent in the United Kingdom, is infectious.
The questions about the possibility that blood from patients with the sporadic and familial forms of TSE might also be infectious is still not resolved even though 10 years of searching has not revealed any examples of blood-related transmission from patients with these non-variant forms of disease.
The development of a blood test to identify affected people in the pre-clinical stage of disease could eliminate the uncertainty about TSE-related blood safety. Some tests have been successful for testing animals infected with TSEs, but in order to know if any test will be reliable in humans, we need to test human blood.
CJD patients and their families are the only source of blood specimens that can answer this question, and we therefore ask you to support our effort.
If you or an affected relative is interested in participating, please contact the name listed below. No more than 50 ml of blood should be collected at a location convenient to you through your own arrangements with your physician and the blood sample should be sent to the Holland Laboratory at no cost to you. The samples will be processed and stored, frozen indefinitely, at the Holland Laboratory in Rockville, Maryland. The Red Cross will provide access to only designated research staff at the Red Cross or other research groups that have provided convincing evidence for a test to detect TSE in animals.
Participating individuals will NOT be notified about test results because the tests that will be performed on blood are experimental and their significance is not known and will remain uncertain for some years to come. The CJD foundation will be notified of any publications coming from our research.
Contact information:
Dr. Larisa Cervenakova; Phone: 301-738-0765; e-mail: cervenakl@usa.redcross.org
---
Wednesday 28th March 2012
Many experts and scientists around the world are concerned about the rising cases of dementia and CJD in the global population, and the worrying trend for much younger individuals to develop these diseases.  I am fifty five years old this year and when I was young in the 1960s dementia was rare and the exclusive disease of the very elderly.
In 2012 we face a global epidemic of dementia cases, with people in their fifties and forties and even younger developing the disease. Medics in Switzerland and across the globe are investigating this 21stcentury phenomenon, they have found this worrying trend is not due to an ageing, expanding population neither is it due to better diagnosis. They all cite environmental factors as the key with many believing BSE has played a huge role in the rise of dementia patients.
Many of these respected and prize winning scientists who are studying all forms of dementia including all types of  CJD told me that "the rapid rise of sporadic CJD and dementia are not spontaneous and we believe that BSE infected material has played a part in many of these patients developing these distressing diseases" adding " Dementia cases are going through the roof in unprecedented numbers, some outside environmental factor has played a part with so many people developing the disease. We believe BSE infected material has made some people within the global population vulnerable to developing dementia/cjd whereas if they had not been exposed to BSE they would have never developed symptoms."
On Monday March 26th 2012
UK Prime Minister David Cameron  also head of the Conservative political party who during the 1970s/1980s  created, allowed and condoned BSE, announced the launch of UK nationwide screening for dementia. This is not about protecting the population but about surveillance of the human form of BSE. Ongoing MRI scans are being used to monitor cases of dementia and these are being carefully scrutinised by the CJD Unit and experts in vCJD. I have spoken to and continue to record many interviews with families whose loved ones have developed dementia type symptoms and they tell me that regular MRI scans are being taken and then sent to various experts in prion disease across the UK. MRI scans are very expensive and usually the NHS has a huge waiting list, people with severe cancers including brain tumours have to wait many weeks for a MRI. These scans paid for by the NHS are usually  prioritised by age and need with older patients rarely receiving this type of diagnostic tool as it's just too expensive, not deemed necessary and certainly not on a regular basis. The UK Conservative led government are keeping a close eye on the numbers of people developing dementia type symptoms as they know that many of these will be the direct result of exposure to BSE infected material.
My investigations have also shown this to be the case, the UK government are aware of the numbers of people developing symptoms of CJD  and want to push any such cases into another diagnostic area removed from vCJD.or sporadic CJD.  Already we have seen cases of young people with diagnosis such as "Sporadic CJD with signs of vCJD" many others in their twenties with a diagnosis of dementia or some "non specific neurological disease", this was unheard of in the 1960s when I was growing up and has only become a growing medical issue since BSE exposure. A further 92 children under the aged of 16 have died recently of non specific brain infections their parents left wondering with no answers.
The UK Department of Health are currently telling families with loved ones suffering from CJD that the disease must now be referred to a "prion disease " as "CJD" has too many negative connections with "mad cows disease". By this subtle re-branding of the disease it removes public and family awareness away from the "human form of BSE". The disease and its origins, those staggering distressed cows become dis-connected. Government statistics regarding vCJD can then be manipulated.
VCJD is indeed the disease that can no longer be named for what it is the human lethal pathogen derived from BSE infected cows which David Cameron's political party and members manufactured and spread throughout the UK and globe. The Conservative party with the support  of Kenneth Clarke and John Gummer are desperately trying to eradicate all mention of vCJD/BSE and trying to wipe out victims by re branding the illness.. They are making out the disease no longer kills but instead CJD victims are being moved over to another category of diagnosis which carry no blame or accountability. This is a damage limitation exercise as blood screening and testing for CJD become ever closer.
This sleight of hand using words to "hide and conceal" instead of "expose and reveal" is the same tactic John Gummer, Kenneth Clarke, Margaret Thatcher and the Conservative Ministers used during the BSE scandal. . Remember Prime Minister John Major telling a vCJD victim,s mother that "there is no connection with BSE and your child's death".
David Cameron's Conservative party colleagues told us throughout BSE that "beef was safe to eat".  Now they will be telling us that vCJD and CJD cases have rapidly fallen and  that thousands of  people suffering from symptoms are now dying of dementia or Alzheimer's instead of what they are truly suffering from, CJD.
In older people the changes in the brain regarding vCJD can differ from a younger person developing the disease, many could look like dementia or sporadic CJD. As Professor John Collinge world expert in vCJD told me during a BBC1 interview "Cases of sporadic CJD are rising and in older people vCJD could well present like sporadic CJD or a form of dementia."
---
Thursday 22nd March 2012

As followers and supporters of my website www.justice4andy.com know my investigations into my Andrew's unlawful death continue into the source of the infection. The UK government CJD Unit specify that BSE infected material went into hundreds of food and medicine products, this is another way of taking the light off the real culprits.
MRM mechanically recovered meat which contained the most infectious part of BSE cattle was used extensively in the lower end of the food market namely commercially prepared baby food, school meals, and institutional foods such as hospitals, meals on wheels, old peoples homes, universities, colleges and for the Military. BSE infected material from foetal calve serum and also human material from blood donors who went on to die of vCJD were used to make vaccines. Below are just some of the ingredients used to make our childrens and families vaccines. With this blog is a photo of my Andrew with his best friend Owen, taken at the sea side just a few months before my son died of vCJD. Andrew cannot raise his head or walk, this is the reality for victims of vCJD.
As you can see bovine material from BSE herds and other animal derivatives were all included in the vaccines my son would have received in the 1980s and 1990s and also all the other victims of vCJD. These vaccines were used on millions of our children and UK citizens and also exported to millions more around the globe. Rabbits, monkeys and dogs have also been found to be susceptible and have developed the equivalent of vCJD.
The following adjuvants and ingredients have been documented as ingredients in vaccines
Acetone (solvent used in fingernail polish remover)
Aluminum hydroxide
Aluminum phosphate
Aluminum sulfate
Amphotericin B
Animal tissues: pig blood, horse blood, rabbit brain,
Dog kidney, monkey kidney
Chick embryo, chicken egg, duck egg
Calf (bovine) serum
Betapropiolactone
Fetal bovine serum
Formaldehyde
Formalin
Gelatin
Glycerol
Human diploid cells (originating from human aborted fetal tissue)
Hydrolyzed gelatin
Monosodium glutamate (MSG)
Neomycin (antibiotic)
Neomycin sulfate
Phenol red indicator
phenoxyethanol (antifreeze)
potassium diphosphate
potassium monophosphate
polymyxin B
polysorbate 20
polysorbate 80
porcine (pig) pancreatic hydrolysate of casein
residual MRC5 proteins
sorbitol
sucrose
streptomycin (antibiotic)
thimerosal (mercury)
tri(n)butylphosphate (neurotoxin)
VERO cells, a continuous line of monkey kidney cells
Washed sheep red blood cells
Aluminum, a neurotoxin, is associated with Alzheimer's disease and seizures.
Formaldehyde is a known cancer-causing agent commonly used to embalm corpses.
Glycerin, a tri-atomic alcohol extracted from natural fats which are putrified and decomposed, has known toxic effects including kidney, liver, and lung damage, dieresis, pronounced local tissue damage, gastrointestinal damage, death.
Neomycin and streptomycin (antibiotics) are known to case allergic reactions.
Phenol (carbolic acid is a deadly poison, a common disinfectant and dye.)
Phenyethanol is known to depress the central nervous system and may cause vomiting and diarrhea. (FDA)
Thimerosal (a mercury derivative) is a toxic heavy metal that is not easily eliminated from the body. Metal toxicity can result in brain injury and autoimmune disease.
Oil adjuvants are known to cause hypersensitivity reactions, cysts, and adjuvant arthritis.
---
Monday 19th March 2012
Below is a report of another officially recorded case of a cow suffering from BSE in Switzerland, it raises more questions than answers. In the same district in 2007 another cow was found to be suffering from BSE. Though the Swiss are more proactive than most European countries in monitoring cattle for BSE its not a hundred per cent and many more cattle incubating or sub clinical with BSE have probably entered the human food and medicine chain.
Medics based in Switzerland have written several papers on the rising cases of dementia and cjd in the country, they believe these cases are directly linked to BSE. Don't be fooled by the wording of "different strains" as the disease has the same origins and the same devastating effect on cattle and human beings.
The Swiss export their chocolate, cheese and many other derivates from cattle around the globe they also import animal feed and cattle from the UK. What happened to this cows parents and siblings have they been traced and tested? Have their meat, milk, cheese and bovine material also entered the food and medicine chain? What farm did this cow come from in the UK? Is the rest of the herd in the UK being monitored or as I suspect has been speedily sent to slaughter.
One of the reasons the Swiss are stating that banned animal feed outlawed in 2005 has nothing to do with the cow developing BSE is that the manufacturer of the UK contaminated animal feed which was exported around the world, has many friends and shareholders within the UK government and Conservative party who created and condoned BSE, Lots of money has been made by Ministers and officials in the UK government during the 1980s, 1990s and beyond from the two major animal feed companies producing this vile mixture of animals remains in the UK.
The monitoring of cattle for BSE is active in Switzerland but this only means 1 in 60 cattle may be tested for the disease. So just how many other cows with BSE have entered the Swiss food and medicine chain?
If the UK had slaughtered all its cattle in the 1980s as Hong Kong killed every single fowl during the avian flu scare, I do believe the disease could have been contained and even stopped in its tracks and certainly would not have claimed my only son's life. Instead we face a ticking health time-bomb throughout the world due to the UK man made manufactured disease BSE and its lethal human pathogen vCJD.
12 March, 2012, 13:52
Mad cow strain found in Switzerland
The Federal Veterinary Office has confirmed one case of mad cow disease in the canton of Bern. The cow was slaughtered last month. The case was discovered as part of a monitoring programme implemented by Swiss authorities. According to vets the cow was not infected with a classical case of BSE, but rather an atypical strain. They say that means the disease was not triggered by a certain animal feed outlawed in 2005. The cow was imported to Switzerland in 2006. Until this case, no cows with BSE have been found in Switzerland since 2007. The Federal Veterinary Office confirms it may have found another one of these atypical cases but stresses this strain of disease is rare. BSE was first diagnosed in 1990, and since then 467 cows were diagnosed with it in Switzerland. No cases of the human strain have ever been detected here.
http://worldradio.ch/wrs/news/wrsnews/mad-cow-disease-strain-in-switzerland.shtml?29563
---
Tuesday 13th March 2012

SABTO Safety of blood tissue and organs is an apparently independent group of experts who meet regularly to advise and make recommendations to the government re public health safety and well being.
They have a few public meeting each year in central London which I always attend, usually I am the only ordinary member of the public there as the meetings are never properly or fully advertised. By law  public meetings¡¯ have to be advertised sufficiently so that the population who will be most affected by the recommendations have the ability to challenge and/or attend. I was told that SABTO's funds could not stretch to publishing these meetings but they seem to meet overnight accommodation, fine wine and dining, expenses and first class travel for many of the so called experts who take part in these events. .
It was brought to my attention by several high ranking government officials at the heart of Westminster who support www.justice4andy.com that SABTO were due to have a 'closed' meeting on Friday 9th March to discuss amongst other things blood filtration and vCJD. Despite scouring SABTO's website and contacting their secretary all details, programme, and agenda regarding this meeting has been kept in total secrecy. Event the venue, location where UK and international experts in blood safety and vCJD would meet was kept under-wraps.
With this blog is a photo taken of me, Andrew and Emma when my son was alive and well. We accuse all those that lie and continue to hide and bend the truth, my family though decimated by vCJD continues to be strong and determined to seek justice.
I have put in a written request to SABTO for the minutes of this "secret meeting" and also have asked to know who attended and any speakers that gave presentations. It"s very concerning that a so called "non partisan" group set up to oversee the rights; health and safety of the general public are conducting themselves in such a covert manner.
On the occasions I have attended SABTO's public meetings I have been met with dislike, disdain and often my questions remain unanswered or brushed aside by the groups of experts present. I have never received the respect due to me as a bereaved mum or even as an ordinary citizen of the UK. I am a thorn in their side a true voice as all those connected or who sit on SABTO's board rely on funding, salaries, expenses or their livelihoods to the Department of Health, NHS or government agencies.
I fear the minutes when they are made public will be a "filleted version" of events and the culture of secrecy that killed my son will continue to weave its web of intrigue and cover-ups. For all of those who continue to prevent openness, transparency and the truth getting into the public arena this is a warning that in the near future you will be "hung by your own petard."
---
Wednesday 7th March 2012
My Andrew left me over four years ago and yet the pain never lessens or heals, I have just become better at hiding the despair and somehow have kept breathing and surviving.
BSE killed my only son and I am damned if it will kill me too.
Whatever I do or achieve will never make up for my Andrew'
s loss but I am hopeful in the near future those responsible will face our legal system and my Andrew and all victims will have their day in open court.
At the moment Kenneth Clarke Justice Minister is trying to push through a Green Paper which would mean that inquests, inquiries or court cases Whitehall deemed "sensitive" could be held in secret and behind closed doors. If the Green Paper becomes law it could prevent any legal action taken by those affected by vCJD from being held in an open and public court. If this green paper become law the UK government could and would silence any revelations and findings behind closed doors and the public would never know the truth about vCJD and its true origins and creators. The cover-ups that began with the manufacturing and condoning of BSE material into the human food and medicine chain by the likes of Kenneth Clarke would then control the courts and how those cases would be conducted.
Dozens of top lawyers and QC's have challenged this green paper which may become law by the end of the year as a total erosion of British Justice. In the ¡®Response of the Law Reform Committee to the Justice and Security Paper 11th January 2012 they state:
"It is one thing to argue that, for reasons of national security, the
unfairness and lack of transparency inherent in CMPs should be tolerated in
specific areas – such as deportation appeals and control order proceedings.
It is quite another to suggest that Government Ministers should be endowed with
a discretionary power to extend that unfairness and lack of transparency to any
civil proceedings, including proceedings to which they are themselves party."
Kenneth Clarke is also pushing for legal aid to be stopped so that individuals and families in poverty and despair will no longer have access to our legal system.
This will mean any family on low income whose loved one has or is dying of vCJD would never be able to pursue the case through our legal system as financially it would be prohibitive. Once again the poorest and the most needy in society will unable to fight for justice. Conservative right wing politics are making the divides between rich and poor wider by the day deliberately forging an abyss between the 'have' and 'have nots'
The implementation of the Justice and Security paper is yet another dangerous step towards 'dictatorship' by David Cameron's ever right wing party. The green paper would mean government officials and agencies would dictate who and what is heard in open court and use it as an everyday tool to hide government ministers wrong doings and illegal activities.
Kenneth Clarke and those responsible for BSE/vCJD know that with the implementation of blood screening tests for vCJD and the development of new treatments and research that we will soon know prevalence of vCJD in the population and also the exact source and location of the infection. With these revelations will come legal cases against those I name and shame on this website including Kenneth Clarke. Families affected by vCJD want and demand transparency and openness and this Justice and Security paper will deny and silence the truth.
Despite Kenneth Clarke's Machiavellian manoeuvres families affected by vCJD will not be defeated or silenced and will fight for justice and the truth with every part of our heart and soul. We are grateful for the dozens of advocates, MPs, Peers, members of the police, armed forces and various groups and organisations that are challenging the Justice and Security paper to stop it or a watered version of it becoming law.
This Justice and Security paper will threaten the constitutional right of every man, woman and child in the UK and with it we would come a step nearer to a "dictatorship." Join us in the campaign for free speech and for every man, woman and child in the UK to have the right to a legal system that is open, transparent, fair and just. Not one that is used, abused and dictated by the amoral likes of Kenneth Clarke and his cronies for their own benefit hide their wrongdoings and illegal activities.www.justice4andy.com
---
Wednesday 29th March 2012

Below is just some of the media coverage in the UK regarding the individual blood screening test for vCJD. To the public, media and outside world the UK Government appears to be making all the right noises and supporting a test which will safeguard all donated blood. Behind the scenes this is not the case, I have and continue to witness time and again Whitehall¡¯s attempts to undermine the science, delay and block a blood test for vCJD.
The UK Government want to keep the test secret  and its results never open to public scrutiny, where transparency is essential ministers and their cronies are desperate that we never know the truth behind BSE/vCJD and just how many of us have been exposed. Those who have the most to loose are the ones controlling all aspects of vCJD including treatments and blood screening.
Campaigners, activists and family members affected by vCJD a UK man made manufactured disease will continue to push for the individual blood screening test to be conducted with transparency and openness, so that in the future no more lives are stolen and wrecked by vCJD. The test will also finally answer many questions such as how many people have been exposed to BSE? How many people are ¡® silent carriers¡¯ of the disease, never get ill but have the ability to pass vCJD onwards through blood? What was the exact source and route of the vCJD infection? Individual blood screening will stop further deaths and prevent future victims. The test is relatively cheap compared to the hundreds of millions of pounds the UK government continue to spend on trying to filter donated blood. Yet Cameron and his cabinet favour filtration not because it's safer but because it will never expose those responsible from BSE/vCJD.
The Telegraph – Thursday 3 February 2011
vCJD blood test developed
British scientists have developed the world's first reliable blood test for vCJD, which could reveal the true extent of the disease's prevalence in the population. The new test is 100,000 times more sensitive than the current method…
The Mail – Sunday 5 February 2012
Revealed: Plans to secretly test 30,000 NHS blood transfusion patients as CJD fears escalate
Thousands of NHS patients could be secretly monitored by the Government for symptoms of the human form of mad cow disease amid concerns that there could be another wave of infections.
Chris James, chief executive of the Haemophilia Society, said: 'We are shocked to learn there was ever any suggestion of non-consensual monitoring.
The Independent – Saturday 14 January 2012
vCJD blood test used in UK 
A blood test for the human form of mad cow disease is being used in the UK for the first time, it has been revealed. Professor Collinge: "We have recently offered this test to UK neurologists and colleagues around… the world (who) are sending us samples from patients in which variant CJD is a possibility in the diagnosis.
Channel 4 footage – Friday 13 January 2012
Blood Test Breakthrough
A blood test for variant CJD is for the first time being offered to patients from around the UK and some from abroad who are suspected of having what was once known as mad cow disease. (Victoria Macdonald – Channel 4 Heath & Social Care Correspondent)
BBC Three Counties Radio – Wednesday 16 November 2011
Liz interview on BBC Three Counties Radio
Helen Lee interviews Liz who highlights the risks of vCJD transmission in blood. (pre-recorded – date unknown)
ITV Meridian News – Friday 11 November 2011
Screening for CJD?
The families of those who've died from the human form of mad cow disease are calling on the Government to introduce a national screening programme. It could prevent variant CJD from spreading through transfusions and donations. Reporter : Tom Savvides. Broadcast time: 3.05pm)
The Guardian – Monday 19 September 2011
We need to know the truth about vCJD numbers
Frank Dobson writes in the Guardian: With so many lives possibly at stake and so much money being spent, the new blood test offers the prospect of certainty for the first time. The researchers want the government to authorise trials of the new bloodtest so we will know how many people are likely to be infected with vCJD.
The Sunday Times – Sunday 18 September 2011
60,000 may have human variant of mad cow disease
John Collinge, professor of neurology at University College London and a former member of SEAC, said it was not known how sensitive to the test vCJD was during incubation but blood donors would almost certainly have included those with the disease.He said: "I don't think people would accept that level of risk of being infected with HIV or hepatitis. I am surprised this finding has not triggered more action."
BBC Radio Sussex – YouTube – Friday 4 February 2011
Radio interview with Mark Ward
Neil Pringle interviews Mark Ward and talks about the risks of blood and blood products contaminated with variant vCJD.
Suite 101 Website – Wednesday 5 May 2010
vCJD Families Protest outside Downing Street, London
Families of vCJD victims gathered outside Downing Street, on 4th May 2010, to demand the UK government reveal the true numbers of people affected by vCJD. An effective test is available but they will not use it. Why not? Christine Lord, Grahame Bell and other members of the protest think it's maybe because screening people's blood would reveal the true magnitude of the problem…
Demotix.com – The Street Wire – Tuesday 4 May 2010
Families of CJD victims take protest to the Prime minister
A group of campaigners who have been fighting for the government to release information on the extent of the spread of vCJD gathered today at No'10 to protest as vCJD continues to claim victims over 10 years after meat products have been branded safe… The campaigners also highlighted the danger of CJD infection by blood transfusion…

Suite 101 Website – Wednesday 5 May 2010
vCJD Families Protest outside Downing Street, London
Families of vCJD victims gathered outside Downing Street, on 4th May 2010, to demand the UK government reveal the true numbers of people affected by vCJD. An effective test is available but they will not use it. Why not? Christine Lord, Grahame Bell and other members of the protest think it's maybe because screening people's blood would reveal the true magnitude of the problem
---
Wednesday 22nd February 2012
The high incidence of sporadic CJD on the Greek island of Crete is very worrying as it suggests environmental factors and causes. Since this published paper in 2001 the victims and their families and the cause of the outbreak has remained a secret. Scientists who researched the cases see published paper below have determined that the Turkish population have a susceptibility to cjd. I disagree and believe these victims deaths are more about exposure to a common source of infection. With this blog is a photo of Kate Richer who died aged 22 of vCJD as a child she had vacations on a farm and helped the farmer feed and look after his cattle and animals.
This group of victims on Crete cannot be called spontaneous or sporadic outbreak but a cluster of cases.A 16 year old Muslim Turkish girl has died of vCJD in the UK and in December 2011 a man of 47 was diagnosed in Turkey with probable Vcjd. There is a link between all these cases which points at a common source of infection. Stating the Turkish community is more ¡®at risk¡¯ of developing cjd is a very simplistic view and not addressing victims connections with the UK which are relevant.
All of the victims on Crete and the person in Turkey would have been exposed to UK exported food or medicines at some time during their lives. Every individual and cluster of cases of vCJD
I have investigated in the UK has brought to my attention people who have also died of sporadic cjd in the same location/district. None of these so called ¡®co incidences¡¯ and ¡®clusters¡¯ have or are being investigated by the UK Department of Health or CJD unit. It¡¯s a can of worms that the Conservative led government do not want the public to become aware of as all these rising cases of cjd point at BSE exposure.
Why after decades of the same gene pool would there be such a dramatic increase in cases of sCJD on the island of Crete? Why would a middle aged man who had never visited the UK who never had a blood transfusion develop vCJD in Turkey in 2011? It all points at some environmental/lifestyle factor, foods, medicines, animal feed and common exposure. Like many greek islands, Crete has hundreds of cats and at least 50 cats died of the equivalent of feline BSE here in the UK. . Talking to my cretan friends I understand that during the period when people were dying of CJD on the island that many cats and dogs were also suddenly dying. None of this was investigated.
Many people from the UK visit Turkey and Crete every year and both areas have strong links with UK residents.The island of Crete has a long standing relationship with the UK and my belief is that this high incidence of sCJD on the island may have more to do with those connections and exposure to UK BSE infected material than anything else.
According to experts a person¡¯s genotype may be important if or when a person develops vCJD the acquired form of the disease. Scientists believe that individuals with the MM codon 129 genotype apparently have the shortest length between infection and development of symptoms approximately eleven and half years from exposure.
However here in the UK MMs. MVs and VVs have all succumbed and died of vCJD, I have interviewed and filmed the victims and their families. In experiments with cows who are all MM genotype it was found the more infected material ingested the shorter the incubation period.
Though MV¡¯s genotype apparently have some protection regarding vCJD which may mean a lengthening of the incubation period or the ability to be a ¡®silent carrier¡¯ never develop the disease but pass it onwards through blood.
I believe this high rate of Cretan sCJD cases is significant and should have been investigated further. How many of these individuals visited or had familial connections with the UK? How many of the victims received vaccines, medicines sourced from the UK? How many of these individuals had exposure to animals/ animal feed or dog/cat food sourced and made in the UK? How many of these victims ate food made from UK BSE infected cattle? Were any of these victims blood donors?
Since the end of the Second World War and particularly during the 1980¡¯s Cretans have welcomed many UK residents into their homes, families and businesses. I know Crete very well having visited the island and experienced the friendly hospitality of its people, I am aware of its geography, history, culture and food.
I know that many UK residents have not only made the island their home but married Cretans.
Many of the villages are still rather remote and isolated so I believe that more people have died of cjd in Crete than have been recorded.
The first case officially recorded of sCJD in Crete during 1997 is in direct correlation with the first officially recognised cases of vCJD here in the UK. Why didn¡¯t experts examine this surge of cases in the relatively small population of Crete in more depth? Once again an opportunity to find answers has been blocked and sidelined as governments do not want the population and families affected by CJD to know the truth.
Subject: Increased incidence of sporadic CJD on the island of Crete
Date: August 3, 2001 at 7:28 pm PST
Increased incidence of sporadic Creutzfeldt-Jakob disease on the island of Crete associated with a high rate of PRNP 129-methionine homozygosity in the local population
Andreas Plaitakis, MD 1 *, Anna K. Viskadouraki, MD 1, Minas Tzagournissakis, MD 1, Ioannis Zaganas, MD 1, Susan Verghese-Nikolakaki, PhD 2, Vasilis Karagiorgis 2, Ioannis Panagiotides, MD 3, Constantine Kilindireas, MD 4, Eustratios Patsouris, MD 5, Christine Haberler, MD 6, Herbert Budka, MD 6, Theodoros Sklaviadis, PhD 2 1Department of Neurology, Division of Medicine, University of Crete, School of Health Sciences, Heraklion, Crete, Greece 2Laboratory of Pharmacology, Department of Pharmaceutical Sciences, School of Health Sciences, Aristotle University of Thessaloniki, Thessaloniki, Greece 3Department of Pathology, Division of Medicine, University of Crete, School of Health Sciences, Heraklion, Crete, Greece 4Department of Neurology, University of Athens, School of Medicine, Athens, Greece 5Department of Pathology, University of Athens, School of Medicine, Athens, Greece 6Institute of Neurology, University of Vienna, Vienna, Austria email: Andreas Plaitakis (plaitakis@med.uoc.gr)
*Correspondence to Andreas Plaitakis, Department of Neurology, University of Crete, School of Health Sciences, Voutes, Heraklion, Crete, Greece
Funded by: General Secretariat of Research and Technology of Greece; Grant Number: YPER-97 Association for the Advancement of Research and Treatment of Neurologic Disorders of Crete Eú Zr
Abstract
Since the spring of 1997, when the Neurology Department of the University Hospital of Crete admitted its first patient, 9 cases (8 neuropathologically confirmed and 1 probable) of sporadic Creutzfeldt-Jakob disease (sCJD) have been recorded. This represents an annual incidence five-fold higher than expected based on the island's population (0.54 million). Molecular analysis of the prion-protein gene (PRNP) showed no mutations in any of the seven CJD cases studied. Five patients (ages 64-88 years) were homozygous for methionine-129 of PRNP and showed the classic sCJD triad (subacute dementia, myoclonus, periodic electroencephalogram). Brains contained Type 1 (unglycosylated 21.5 kDa band) protease-resistant prion protein (PrPres). Two patients (ages 56 and 57 years), both homozygous for valine-129, showed cerebellar ataxia and later dementia not associated with periodic electroencephalogram; brain PrPres was Type 2. Genotyping of 205 Cretan controls showed that methionine-129 homozygosity, a susceptibility factor for sCJD, was significantly higher in this population than in other Caucasian populations (57.0%, n = 205 versus 41.5%, n = 859. These data are the first to relate a high regional incidence rate for sCJD to the distribution of PRNP 129 genotypes in the local population; however, additional factors may be operational.
Received: 11 December 2000; Revised: 3 April 2001; Accepted: 3 April 2001
http://www3.interscience.wiley.com/cgi-bin/abstract/83502018/START
Distribution of the M129V polymorphism of the prion protein gene in a Turkish population suggests a high risk for Creutzfeldt-Jakob disease
Nihan Erginel-Unaltuna1, Katell Peoc'h2, Evrim Komurcu1, Tufan Tevfik Acuner3, Halim Issever4 and Jean-Louis Laplanche*,2 1Department of Genetics, Institute for Experimental Medical Research, Istanbul University, Istanbul, Turkey; 2Service de Biochimie et Biologie MoleÂculaire, Association Claude Bernard, HoÃpital LariboisieÁre, Paris, France; 33rd Neurology Clinic, Turkish Ministry of Health Bakirkoy Hospital for Psychiatric and Neurological Diseases, Istanbul, Turkey; 4Division of Biostatistics and Demography, Department of Public Health, Istanbul Medical School, Istanbul University, Istanbul, Turkey
A polymorphism (M129V) at codon 129 of the prion protein gene (PRNP) results in either a methionine residue (Met) or a valine residue (Val) and is known to determine susceptibility for the development of sporadic or acquired Creutzfeldt-Jakob disease (CJD). The distributions of M129V genotypes and alleles in various general populations have been reported and there are clear differences between Western Europeans and East Asians. We analysed the coding sequence of the PRNP gene in 100 healthy Turkish subjects to determine whether the distributions of the M129V genotypes and alleles or other PRNP gene variants in the Turkish population differ from those in other normal populations. Three known polymorphisms but no other gene variants were detected in the PRNP coding sequence of the Turkish individuals. Genotype frequencies at codon 129 were 57% Met/Met, 34% Met/Val and 9% Val/Val, with an allele frequency of 0.740 : 0.260 Met:Val. These distributions are considerably different from those reported for other normal populations residing in Western Europe and East Asia, except in Crete. The higher frequency of 129 Met-homozygotes in Turkey than in Western Europe suggests that the Turkish are at greater risk of developing CJD.
European Journal of Human Genetics (2001) 9, 965 ± 968.
Keywords: Creutzfeldt-Jakob disease; prion; gene; PRNP; polymorphism; Turkey; population; genetic snip…
Consequently, the distributions of the M129V genotypes and alleles in the Turkish population differ considerably from those reported for other normal populations residing in either Western Europe or East Asia, with the notable exception of Cretan natives. A recent report19 found that the high rate of PRNP 129Met homozygosity in Crete was associated with a local increase in the incidence of sporadic CJD. As homozygosity at PRNP codon 129 is a recognized risk factor for sporadic and acquired CJD in Caucasians5,21 and heterozygosity is protective,2 ± 4,21 the higher frequency of 129Met-homozygotes in Turkey than in Western Europe would also suggest that the Turkish are at increased risk of developing CJD.
http://www.nature.com/ejhg/journal/v9/n12/pdf/5200754a.pdf
Increased Incidence of Sporadic Creutzfeldt- Jakob Disease on the Island of Crete Associated with a High Rate of PRNP 129-Methionine Homozygosity in the Local Population.