Christmas Eve  24th December 2013
I will lay a bunch of red and yellow roses at Andrew's grave on Christmas Day, the only present I can give my son this holiday season.
I long to hold my son, to talk and walk with him to hear his laughter instead my empty arms reach out to everyone who has supported me over this last year with a big thank you from me and on behalf of Andrew. Time doesn't heal but the wonderful friends and helpers that continue to come forward help this heartbroken mother keep upright and determined.
Nothing can replace my son's vibrancy the life he should have been able to live and experience, or help my pain, but knowing in this world there are so many lovely people that care and offer their services to the campaign, fuels my resolve and determination.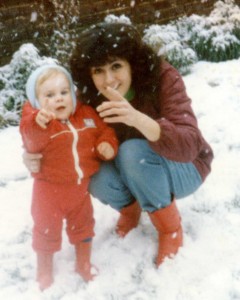 2014 is an important year for justice4andy and all victims and families affected by vCJD including the one in 2,000 of the UK population carrying human BSE.
We edge closer to the truth and unmasking those responsible, and of course screening tests and treatments for CJD which will benefit many areas of neurology.
Sending my Andrew lots of love to quote J M Barrie, as Peter Pan said to Wendy:
'Never say goodbye because goodbye means going away, and going away means forgetting.'
I never will say goodbye my darling  Andrew….. your mum xxx
Monday 16th December 2013 
On this day in 2007 my son Andrew died aged 24 from Human BSE, he had a terrible and painful death, like all victims of vCJD. The disease is relentless in its cruelty and the pain and suffering it gives to all its victims. No medication can dull the extremes of pain and fear that victims  suffer during their final months and dying moments.
Since Andrew's unlawful and untimely death and my ongoing investigations into the BSE scandal I have been threatened, blocked, ignored and treated appalling by government officials and those most to blame. Alongside this I have been loved, cared for, given many helping hands by strangers in the street, ordinary members of the public and the millions of concerned people who have contacted me via this website, phone, email, post and many other means. Thank you all! I have never lost my faith in the goodness of ordinary folk and your kindness and ongoing help means such a lot to me as Andrew's mother but also as a campaigner for justice and truth.
Together we form an unstoppable alliance,  love and truth are the most powerful elements in the universe.
I like to share yet another act of wonderful kindness from a supporter of the campaign Allison  Day a well known artist whose work you can view on Saatchi online. (see link below)
Allison presented me with a family portrait she has painted in watercolours from a photograph of me, Andrew and Emma. The painting above is a striking likeness capturing our energy and laughter during a very precious and happy evening I spent with my children.
It's a wonderful memory of the happiest times when Andrew was 20 years old working hard at TalkSPORT radio with a wonderful future assured. What a special and forever keepsake of my son and 'little family of three'. Thank you Alison so much for caring about Andrew and the campaign and giving your talent and time, getting the painting just right, Andrew and all his complexities, humour, gentleness have been embraced, as have Emma's mischievousness, and my maternal pride being with the two people I loved more than anything in this world.
'What will survive of us is love' Phillip Larkin ( English poet)
http://www.saatchionline.com/allison_day and www.allisondayart.com
Tuesday December 10th 2013
With this blog is photo of Grant Goodwin who died aged 30 of vcjd in 2009, his family have been threatned not to speak out or even tell their neighbours their son had human BSE.
http://www.sundaypost.com/news-views/uk/dad-fears-new-bse-whitewash-1.162914
The Sunday Post
UK
DAD FEARS NEW BSE WHITEWASH
By Marc Meneaud, 8 December 2013 11.01am.
A grieving father whose only son died of mad cow disease fears a Government inquiry will not expose the truth about its dangers.
Speaking after studies revealed one in every 2,000 Britons could be carrying the infection without knowing, Tommy Goodwin warned: "I think this is going to be a massive cover-up."
The taxi driver nursed his 30-year-old son Grant in his agonising final days as he succumbed to the human form of BSE, known as variant Creutzfeldt-Jakob disease (vCJD). Grant, from Hamilton, became the world's first victim of vCJD from a different genetype  when he died in 2009.
Now a Commons committee has ordered an independent inquiry into the safety of blood donations following fears some may be infected with vCJD.
But last night, Tommy, 53, told The Sunday Post: "The truth needs to come out about blood safety and the whole scandal of vCJD. But I think this inquiry is going to be another Government whitewash."
Grant doesn't even appear among the official number of 176 vCJD victims because experts insisted the disease did not affect his particular gene type.
Mr Goodwin said that for the Government to admit vCJD could jump gene types would mean accepting a new strain existed — with a much longer incubation period spanning decades.
Experts now believe people of all gene types carry the "prions" which cause the disease and can pass them on through donations and transplants.
Tommy and his wife Margaret are backing calls by campaigner Christine Lord — whose own son died from vCJD — for evidence from bereaved families to be part of the inquiry, announced last week by the Commons Science and Technology Committee.
It comes 13 years after the Phillips report, which ruled Tory ministers failed to warn of BSE's dangers.
Committee chairman Andrew Miller said: "Your heart goes out to people who have suffered hell on earth.
"We're trying to create the space for public discussion."
Friday December 6th 2013
Nelson Mandela has died, a light of right, justice and tenacity has gone from this world. My thoughts are with the many families and individuals affected by CJD in South Africa. I know how much you will miss him! Over the years I have spoken to victms and their families in South Africa and understand how much harder your fight for recognition and justice will be without Mandela.
Saturday November 30th 2013
Bellow is the link to the meeting where experts discussed the ongoing risk of vCJD to the UK population. At 1 hour 32 minutes Graham Stringer MP mentions my name and my direct challenge to the British Government that they are not reporting the true numbers of people who have and continue to die of human BSE.
It's a pity that family members were excluded from this meeting as I would like to have been a witness; the human face of Mad Cow Disease was not represented. I will formally complain to the select committee that not only were families affected not invited we like the general public were unaware of this meeting till the very last minute. Note the empty seats and the fact the only people attending and speaking were experts mostly funded or salaried by the Department of Health, Westminster or Whitehall. This government monopoly has got to stop!
http://www.parliamentlive.tv/Main/Player.aspx?meetingId=14311
SCIENCE AND TECHNOLOGY COMMITTEE
Select Committee Announcement
Evidence hearing: variant Creutzfeldt-Jakob Disease (vCJD)
Wednesday 27 November 2013
Thatcher Room, Portcullis House
The Science and Technology Committee has decided to hold an oral evidence session on variant Creutzfeldt-Jakob Disease (vCJD) and the ongoing risk it poses to the UK. The Committee will hear evidence from scientific experts on the potential prevalence of vCJD in the population, modes of ongoing transmission and current UK surveillance, control and prevention strategies.
Andrew Miller MP, Chair of the Science and Technology Committee, said:
"More than twenty years on from the BSE crisis, studies have suggested that thousands of people may still carry the infectious agent thought to cause variant Creutzfeldt-Jakob Disease—the human form of "mad cow disease".
"Although these people may never go on to develop symptoms of vCJD, important questions remain to be asked about the potential risk posed by this terrible condition and what the Government should be doing to reduce the spread of infection."
Watch it online at http://www.parliamentlive.tv/Main/Live.aspx
At 9.05 am
Dr Roland Salmon, Joint Chair, Advisory Committee on Dangerous Pathogens TSE Sub Group
Professor James Ironside, Professor of Clinical Neuropathology, National CJD Research and Surveillance Unit, University of Edinburgh
Professor John Collinge, Professor of Neurology at the UCL Institute of Neurology and Director of the MRC Prion Unit
FURTHER INFORMATION
Committee website: www.parliament.uk/science
Committee Membership: http://www.parliament.uk/business/committees/committees-a-z/commons-select/science-and-technology-committee/membership/
Media Information: Nick Davies daviesnick@parliament.uk / 020 7219 3297
Specific Committee information:  scitechcom@parliament.uk / 020 7219 2793
Twitter: @CommonsSTC
The session is open to the public on a first come, first served basis. Portcullis House is the building directly above Westminster Station, entrance to which is via Victoria Embankment.  There is no system for the prior reservation of seats in Committee Rooms.  It is advisable to allow about 30 minutes to pass through security checks.  Committee rooms and the timing of meetings are subject to change.
Publications / Reports / Reference Material: Copies of all select committee reports are available from the Parliamentary Bookshop (12 Bridge St, Westminster, 020 7219 3890) or the Stationery Office (0845 7023474).  Committee reports, press releases, evidence transcripts, Bills; research papers, a directory of MPs, plus Hansard (from 8am daily) and much more, can be found on www.parliament.uk.
Sunday 24th November 2013
http://www.thesundaytimes.co.uk/sto/news/uk_news/Health/article1344448.ece
The Sunday Times 24th November 2013, Page 29
By Emily Cope and James Gillespie
VICTIMS' MOTHER WARNS OF CJD 'TIMEBOMB'
A Mother whose son died of the human version of mad cow disease has turned down £120,000 in compensation and warned that the illness remains a 'ticking health time bomb' in Britain.
Andrew Black, 24, died from variant Creutzfeldt-Jakob disease (vCJD) IN 2007, AND HIS MOTHER Christine Lord has campaigned ever since to find out what the government knew about BSE and when.
She maintains in her new book, Who killed my son? that one in 2,000 people in Britain still carries the deadly disease, which is linked to eating contaminated beef.
Lord, 55, a journalist from Portsmouth, said she turned down the compensation because it felt like 'hush money.'
'I won't be silenced.' She said. 'The Department of Health say there are no limits to people talking to the press when they accept the compensation, but there is subtle pressure put on families to be quiet.
The attitude is that you take the money, go away and shut up. Because I haven't taken the money I feel much freer to speak out about the vCJD cover-up.'
During Andrew's finals moments he said, 'Find out who did this to me.' I promised him I would.'
Black was an aspiring radio and TV producer before contracting vCJD. By the time he died just before Christmas 2007, he was quadriplegic, blind and deaf.
'Millions of people could unknowingly e3aten contaminated beef and there is still a risk that a generation is carrying the infection.' Lord said.
She believes the scale of the disease has been hidden. Official records show 177 people in the UK have died from vCJD, but Lord believes the true figure is far higher.
Excessive growth is just one of the many symptoms of vCJD, along with dementia, blindness and a loss of mobility. In the months before his death, Black grew by four inches, causing his bones to shatter.
Lord is still campaigning for a criminal investigation, 'something needs to be done before people start dying, but the government just wants to sweep it under the rug.'  The vCJD Trust, set up by the government to handle compensation, said accepting compensation did not prevent recipients from campaigning or speaking out on the subject.
Thursday 14th November 2013
UK GOVERNMENT REVEAL ONE IN TWO THOUSAND OF UK POPULATION CARRY VCJD 'HUMAN MAD COW DISEASE'
Debate in UK parliament House of Commons Tuesday 12th November 2013
CJD Mark Tami: To ask the Secretary of State for Health (1) what steps his Department has put in place to monitor the number of people who carry the abnormal prion protein which causes variant Creutzfeldt-Jakob disease; [174628]
(2) when he plans that screening of the abnormal prion protein which causes variant Creutzfeldt-Jakob disease will be introduced; [174631]
(3) what assessment he has made of the number of people who carry the abnormal prion protein which causes variant Creutzfeldt-Jakob disease. [174633]
12 Nov 2013 : Column 615W
Jane Ellison: The presence of abnormal prion protein is currently taken as a marker for asymptomatic carriage of variant Creutzfeldt-Jakob disease or for symptomatic infection. A recent study to assess carriage by looking at stored appendix tissue samples, first published in the Health Protection Report in August 2012, found abnormal prion protein in 16 appendices out of 32,441 samples. This suggests a prevalence of about 1 in 2,000.
There is no monitoring of people who may carry the abnormal prion protein; all appendix prevalence studies are anonymised.
No routine screening can yet take place as there are no suitable validated screening tests for abnormal prion protein available. The Department, together with the United Kingdom Blood Services, continues to monitor, scientific research and development in this area.
http://www.publications.parliament.uk/pa/cm201314/cmhansrd/cm131112/text/131112w0004.htm#13111283000003
Owen, Monday November 11th 2013
Andrew's dear friends came to visit for two days; here is a photo of me Owen and Jiggy, taken by Kial. We are standing on the beach at Southsea where Andrew spent many happy days as a child, building sandcastles and running full of energy into the sea.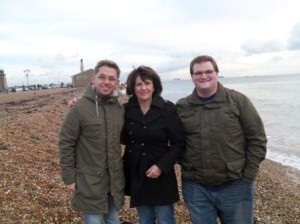 It's wonderful that Andrew's friends remain in touch and made the trip from Wolverhampton to visit me on Kial and Jiggy are all mentioned in my book, Who killed my son? during their trip we talked a great deal about Andrew when he was having fun and full of life.  It's still so hard for me to take on board that my Andrew will never walk through the front door of our home ever again, and that I will never be able to give my son a hug or hear about his day and achievements.
The reality of vCJD continues to shadow my life as it does all of those who have lost a loved one, family member, friend or colleague to human BSE. Though the leaves are now falling and another winter approaches, and though it's been six years since Andrew died, I remain steadfast and determined and the campaign for justice continues to grow and move forward.
Andrew would have expected nothing less from the mother he nick-named 'Miss Fixit.'
I only wish I could have fixed my son and made him better………………..
Wednesday 31st October 2013
CJD victims continue to come to light, on ITV television in the UK on Friday October 25th 9pm, Piers Morgan interviewed Pete Waterman multi millionaire record producer. During the interview Pete Waterman revealed he had lost his son Paul aged just 33 in 2005 to CJD.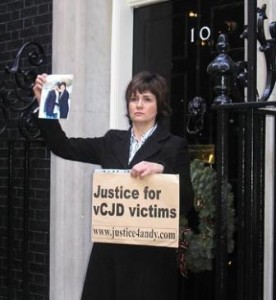 For more details see the links below, my thoughts are with Pete and his family, time never heals, we just get better at hiding our grief.
http://www.dailystar.co.uk/news/latest-news/322019/My-son-died-and-no-one-even-rang-me-says-Pete-Waterman
www.mumsnet.com/Talk/in_the_news/1892680-PETER-WATERMANS-SON-DIED-FROM-MAD-COW-D
Wednesday October 23rd 2013
Below is a review of my book Who killed my son? from The Journalist, the magazine of the National Union of Journalists (NUJ) Pg 23,Oct/Nov 2013
PREVIEW
The Scandal of BSE
WHO KILLED MY SON? By Christine Lord
Losing a child is every mother's worst nightmare. For NUJ member Christine Lord, the nightmare was compounded by the fact that her son Andrew died aged just 24 of VcJD, the human variant of BSE ("mad cow disease"). Who Killed My Son? is Christine's riveting account of her six-year investigation into Andrew's death and the wider issue of how BSE passed from animals to humans during the 1980s. She discovered that the public had been lied to time and again, that vital scientific evidence had been repressed and that government inquiries had been misled. This was a scandal that went right to the top of British politics, industry and agriculture. Furthermore, VcJD remains a huge risk today because millions were exposed at the time and the incubation period is long. While researching the book, Christine received a number of threats to her safety, but was not deterred from seeking out the truth.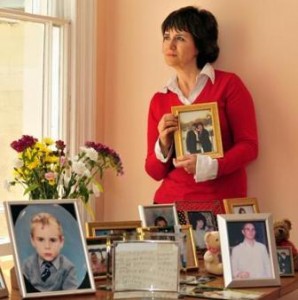 Who Killed My Son? is at once a page-turning thriller and an urgent piece of investigative journalism that should be read by anyone who cares about the food they eat, the politicians they elect and the scientists they place their trust in.
Who Killed My Son? is available now in paperback and e-book from Amazon.  ( review by Tom Sykes)
Monday October 14th 2013
Researchers estimate one in 2,000 people in the UK carry variant CJD proteins
(with this blog is photo of me centre with left Tommy Goodwin who lost his son Grant to vcjd aged 30 (2009)  and Rose Smith who lost Billy aged 21 in 2010)
Monday, October 14, 2013 – 16:55
Around one in 2,000 people in the UK may carry variant CJD proteins, concludes a large scale survey published on bmj.com today.
The survey provides the most robust prevalence measure to date – and identifies abnormal prion protein across a wider age group than found previously and in all genotypes.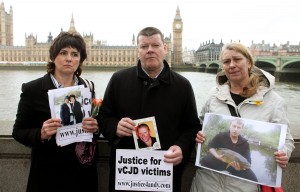 Doctors need to understand the public health measures that are in place to protect patients.
Variant Creutzfeldt-Jakob disease (vCJD) is a degenerative brain disease – often called the human form of bovine spongiform encephalopathy (BSE) or "mad cow disease." It emerged after widespread exposure to BSE prions in the late 1980s and early 1990s through contaminated meat products in the food chain.
uncertainty remains about how many people will eventually develop the disease.
And it is still not clear what risk carriers pose of transmitting the disease by blood transfusion or surgery. .
A team of UK researchers decided to conduct a further survey to better understand how many people in the UK may be carriers and to identify their genetic make-up (genotype).
They examined over 32,000 anonymous appendix samples from people of all ages who had their appendix removed between 2000 and 2012 at over 41 hospitals across England.
Of these, 16 samples were positive for abnormal prion protein, indicating an overall prevalence of 493 per million population. From this figure, the research team estimate that one in 2,000 people are likely to be carriers.
Research: Sebastian Brandner, professor of neuropathology, Division of Neuropathology, the NationalHospital for Neurology and Neurosurgery, and Department of Neurodegenerative Disease, UCL Institute of Neurology, Queen Square, London, UK
s.brandner@ucl.ac.uk
Monday 7th October 2013
See link below to my appearance on ITV Meridian News where I discuss my book 'Who killed my son?' See footage as I cared for my son Andrew during his dying days.
Watch as cows stricken with BSE tumble to their knees, and see a smiling John Gummer who was head of Agriculture during the BSE scandal enter the BSE Inquiry smiling.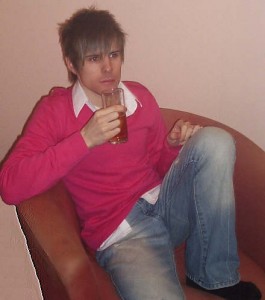 Whilst in the front seats at the Inquiry bereaved parents of victims of vCJD sat in a dignified manner.  The Inquiry was a white-wash as my book shows stage-managed by the very people it would have incriminated. With this post is a photo of Andrew's last christmas 2006, unknown to me he was already dying of vcjd.
http://www.youtube.com/watch?v=l285fX8-hW0
Thursday October 3rd 2013
My book who killed my son? Amazon best seller has received over 30 Five Star reviews, countless emails to this website, and lots of feedback and shock from people who have read the book and been appalled at the government cover-ups and lies that led to my Andrew's horrific death due to human BSE.
Below is just one of the reviews, thank you all so much for your continued support, every book bought/downloaded helps me keep my research and the campaign on track, and to keep the promises I gave my dying Andrew. Miss him so much….
Keep buying, reading and telling your friends about my story and how millions of us were put at risk of Mad Cow Disease due to the conspiracy condoned by those named and shamed on this website.
One of the 30 5 Star reviews on Amazon
5.0 out of 5 stars Anyone who cares about what sort of a country we live in should read this book, 30 Sep 2013
By Allison Day Amazon Verified Purchase
This review is from: Who Killed My Son? (Paperback)
I found the book terribly difficult to read. It is a mother's anguish laid bare, and her determination to avenge her fatally damaged son – damaged by the very food and medicines which should ensure life, not take it away in such a brutish horrible fashion. In spite of the pain, Christine Lord retains a journalist's passion and determination to find out the truth – and the truth is shocking to any of us who believe we live in a democracy.
For Andrew's disease was entirely man made – and will have ramifications for many years to come. After reading about the conniving arrogance of those in power, then anyone who retains a shred of belief in honesty and probity in Whitehall's dark recesses will find it difficult to swallow. But swallow it we must if we are to ensure a different, better more open society than we have at present. We must thank Christine Lord for opening our eyes.