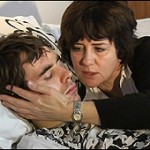 In 2007 my beloved son Andrew died from vJCD aged just 24. Since then I have created a campaign to find out how and why he died and who is to blame for this terrible disease. This is my blog containing much of the material I have collated and the history of the campaign.
Wednesday 7th January 2015
As, this New Year begins the campaign for justice and my investigations into my son Andrews's criminal death speeds into action.
Despite cyber attacks on this website, personal threats to my well being and intimidation towards families affected by government officials, we remain determined and upbeat.
The current Chief Medical Officer Sally Davies crafted rhetoric regarding Human BSE, is false and does not inform or disclose the true numbers of people who have died are dying and will die of vCJD.  Whitehall and Westminster continue to spin their web of lies and the corruption that has seen serious child abuse thrive in the corridors of the UK establishment was hand in hand with the BSE cover-up.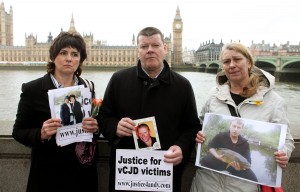 Today at the beginning of this New Year, I remember my beloved Andrew and all those loved family members who have died, been disabled and continue to be affected by the human form of mad cow disease/vCJD. You will never be forgotten and your cause will soon be centre stage.
'Justice is truth in action' Benjamin Disrael
Thursday 18th December 2014
I was recently asked to appear on Green Radio a station based in London.
Below is the link to the podcast of the two hour show, which included my choice of five songs which had particular significance to me and my family.
Anna Watson the presenter was sensitive, professional and very well informed about the issues surrounding BSE and its human victims.
Listening to my favourite songs such as Abba's Mama Mia and the Circle of Life from the Lion King,  brought back many happy memories of family life before it was shattered by my Andrew developing vCJD.
Thank you Anna and producer Sam for making this experience so touching and warm, it was at times hard to talk about my heart break but the songs and show helped me to access the many happy family memories I shared with Andrew and my daughter Emma.
I will continue to fight and podcasts such as these are a reminder of the wonderful young man my son was and how a bereaved mother has the strength to take on the world when defending her child and loved ones. Because that's what mums do……
http://www.mixcloud.com/kingstongreenradio/the-natural-health-show-justice-for-andy/
Tuesday 16th December 2014
At 9:25pm on 16th December 2007   my only son Andrew died of vCJD aged just 24.
Time doesn't heal especially when those responsible for Andrews unlawful death, have never been punished but, outwardly seem to have flourished due to their corruption and lies. However whatever means, patronage, and influence those responsible for Andrews's death continue to use, they are running out of places to hide and people willing to conceal their criminal acts.
Within Westminster and Whitehall there are sweeping changes, knives are being sharpened and loyalties abandoned as rats jump a sinking ship of shame.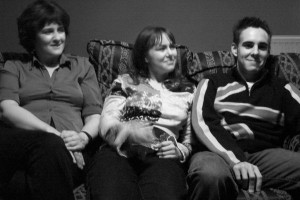 Justice will be done!
Below is a poem which reminds me of Andrews big, caring heart, my handsome, once healthy, strong young son, a true gentleman with an honest heart who would have done so much for society the world is a much sadder place without my Andrew.
If I should go tomorrow
If I should go tomorrow
It would never be goodbye,
For I have left my heart with you,
So don't you ever cry.
The love that's deep within me,
Shall reach you from the stars,
You'll feel it from the heavens,
And it will heal the scars.
Anon
Wednesday December 10th 2014
There was a summit at the House of Lords regarding early onset dementia, read the story below from Victoria McDonald Health Correspondent Channel 4 News
Yet not one family affected who is affected  by human BSE and is challenging of the government  was invited or informed about this event. Loosing a child/ young person to the human form of mad cow disease and watching a teenager or twenty year old son or daughter suffering from dementia due to Human BSE is devastating. Families and  current victims of vCJD  should have been included and informed.
Once again vcjd victims and their families are side lined and seen as a group that can be ignored and dismissed, well these attempts to silence our voice just makes it stronger.
http://blogs.channel4.com/victoria-macdonald-on-health-and-social-care/early-onset-dementia-devastate-family/2685
Friday November 21st 2014
Read why this bereaved mother and investigative journalist has been repeatedly threatened by the establishment, and why Prime Minister David Cameron and his government continue to ignore human mad cow disease a UK deadly disease, which one in 2,000 of the population silently carry or incubate.
http://www.portsmouth.co.uk/news/health/local-health/portsmouth-mum-s-anger-as-government-says-no-to-vcjd-probe-1-6428090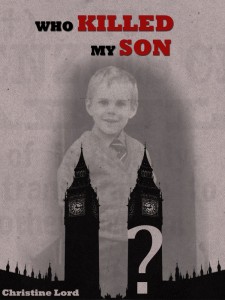 Monday 17th November 2014
PORTSMOUTH BOOKFEST
Many families previously unknown to me who have been affected by human BSE came forward during my recent book signing. The list of victims of human mad cow disease grows daily and yet the UK government continues to deny the true numbers of people who have died, are dying ,disabled or are 'at risk' of developing vCJD. The biggest health and political cover-up of modern times  continues to weave its sinister web perpetrated by the establishment and  condoned by the Westminster cronies of those I name and shame on this website.
http://www.portsmouth.co.uk/news/health/local-health/who-killed-my-son-1-6414276
Thursday 6th November 2014
There was a wonderful response from members of the public during my meet the author, talk, book signing as part of Portsmouth BookFest. People were appalled at the lack of cohesion and dis-regard Prime Minister David Cameron and his government have for victims of Vcjd and blood safety.
I have several more leads too, invites to give talks to various organizations and of course book sales went very well too!
Below is link to Andrew's Facebook page and also some photographs taken at the event by my PR supporter and the media.
https://www.facebook.com/WhoKilledmySon?fref=ts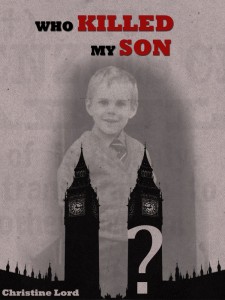 GOVERNMENT REJECTS WARNINGS MAD COW DISEASE FROM TOP EXPERTS MPS
https://www.youtube.com/watch?v=NVSm9Mr7TFk
The Government has rejected calls for further research and safeguards into vCJD the human form of mad cow disease.  It has dismissed the significant and essential recommendations that an Inquiry by influential MPs from the Science and Technology Committee made in their report. (Published 24th July 2014.)
The MPs took a detailed look at Britain's blood supply and the very real risk that human BSE is being passed on by blood donors who are unaware they are carrying the infection.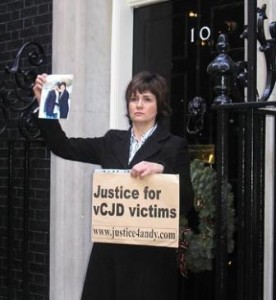 Two essential recommendations the Inquiry members made was a large scale vCJD blood prevalence study in the UK within 12 months, to find out how many in the population have been exposed to BSE. The second recommendation was research into dementia, amid concerns that CJD is being mis-diagnosed particularly in the elderly. The government has rejected both of these stating there is no test for vcjd and the second that funding is not available to explore just how many people with dementia are really dying of vcjd.
I challenged this very strongly, there are and have been tests but these have been vetoed by the Department of Health. Myself, and other families affected by vCJD tried to send our late family members blood samples to foreign independent scientists developing screening tests for vcjd. We were intimidated and blocked from doing this, the Department of Health control all blood and tissue samples.
I appeared on BBC Radio just thirty minutes after the report was published, late on Friday evening. (see link above)
It the usual tactic by Whitehall spin doctors a good time to bury bad news.
The UK population face a deadly potential epidemic on our doorstep which was highlighted repeatedly within the Inquiry's published report.
Every time this campaign and experts present facts about the ticking health time bomb that is human BSE and demand action, it is dismissed and pushed aside by the authorities.
This is not about lack of funding this is all about protecting those responsible for BSE and its deadly on-going consequences.
Hospital patients are not screened for vcjd, blood donors are not screened for human BSE, and with upwards of 60,000 of us carrying or incubating the disease, Human BSE is being re-cycled again and again within the wider population.
I remain determined and upbeat, my evidence is now in the archives of Hansard my book selling well on Amazon, my investigations on track and gaining more momentum.
When Andrew was dying he asked me to find out who was responsible for his illness and also to protect other families, I continue to honour those promises as a mother, campaigner and journalist.
These are the recommendations which were rejected by the Government.
1. A recommendation that the Government begin a large scale vCJD blood prevalence study in the UK within 12 months ( Conclusion paragraphs 14/15)
2. A recommendation that the Government conduct immediate audit on those 'at risk' of vCJD. ( see Conclusion Report paragraph 18)
3. Calls for the Government to back research into atypical dementia- amid concerns that CJD is being mis diagnosed in the elderly (Report Conclusion paragraph 21)
4. Criticism of SABTO ( the advisory committee on the Safety of Blood, Tissues and Organs) for its 'relaxed' approach to vCJD in the light of recent evidence as one in every 2,000 people could be infected with vCJD without showing any symptoms. (Conclusion Report paragraph 22)
5. Criticism of the Government for its current attitude ' our fear is that the Government current attitude is driven less by the available scientific evidence than by its optimism that vCJD is no longer a threat to public health that it once was. In the current economic environment this attitude is not surprising. However its is not justified for all we know the storm may well be on-going.' (Report Conclusion paragraph 23)