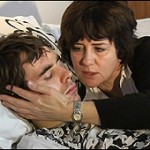 In 2007 my beloved son Andrew died from vJCD aged just 24. Since then I have created a campaign to find out how and why he died and who is to blame for this terrible disease. This is my blog containing much of the material I have collated and the history of the campaign.
Thursday 24th July 2014
Today the Science ant Technology Committee published its report After the Storm? UK Blood safety and the risk of variant Creutzfeldt-Jakob Disease. I gave oral and written evidence and all committee members read my book Who killed my son?
The report is scathing and highly critical of the UK governments 'casual' attitude towards vCJD and public health and safety. They have made many strident recommendations but this is only useful if David Cameron and his government take note and act.  Delay, block, intimidate, dis-respect  has been the theme surrounding all aspects of vCJD/BSE.
I welcome this robust report from the committee members, lets hope that action now takes place to prevent further deaths  of Human BSE  via contaminated blood/ cells/ tissues/ medical instruments.
Below is the link, my evidence has been published throughout  some of the main points of the report are:
Conclusions:
1. A recommendation that the Government begin a large scale vCJD blood prevalence study in the UK within 12 months ( Conclusion paragraphs 14/15)
2. A recommendation that the Government conduct immediate audit on those 'at risk' of vCJD. ( see Conclusion Report paragraph 18)
3. Calls for the Government to back research into atypical dementia- amid concerns that CJD is being mis diagnosed in the elderly (Report Conclusion paragraph 21)
4. Criticism of SABTO ( the advisory committee on the Safety of Blood, Tissues and Organs) for its 'relaxed' approach to vCJD in the light of recent evidence as one in every 2,000 people could be infected with vCJD without showing any symptoms. (Conclusion Report paragraph 22)
5. Criticism of the Government for its current attitude ' our fear is that the Government current attitude is driven less by the available scientific evidence than by its optimism that vCJD is no longer a threat to public health that it once was. In the current economic environment this attitude is not surprising. However its is not justified for all we know the storm may well be on-going.' (Report Conclusion paragraph 23)
Tuesday 8th July 2014
Cattle diagnosed with BSE in Germany, Romania and Greece and a USA resident dying of vcjd the human form of mad cow disease in a Houston Hospital May 15th 2014; highlights how this deadly disease continues to kill, main and destroy animals and humans.
Though the report below discusses one case of BSE in Romania, cattle like humans can be symptom free but still deadly infectious. How many other cattle in Romania infected with mad cow disease have already entered the human food chain and been consumed? One cow can make literally hundreds of meat products and of course bovine material can be used to produce hundreds of vaccines for humans.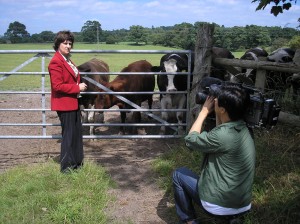 Meanwhile the media continues to report on hundreds of patients who have been told they are at risk of developing cjd due to contaminated blood/surgical instruments.
This blog could run into pages and pages of the rising toll of mad cow disease in both animals and human population. Yet authorities in the UK and globally continue to push their heads in the sand hoping that this modern day man made plague will simply go away, when the list of victims and those disabled by vCJD continues to grow.
With this blog is a photo of me at Pitsham Farm West Sussex where the first officially diagnosed cow with BSE was reported in December 1984, but not publicly announced for many years.
The same UK departments who lied and hid the truth about the Ptisham Farm cattle dying of BSE are currently investigating the Romanian BSE case.
I remain concerned about how much transparency and honesty there is in the reporting of BSE in cattle and human vcjd, as the conflict of interest shown by various governments and their alliances with the meat industry often means human and animal health is a poor second to commerce and making profits for large corporations. A conspiracy that goes to the very top of the British Establishment continues to pressure scientists and medics into under reporting cases of BSE and vcjd in humans, and of course any victim's of vcjd from consuming BSE infected material from Romania, Greece or Germany  will not become ill for many years.
Below is the latest report about cattle in Romanian with BSE
http://www.whas11.com/news/world/265550981.html
Suspected mad cow disease found in Romanian bee
Associated Press
Posted on July 2, 2014 at 12:02 PM
Updated yesterday at 5:36 PM
BUCHAREST, Romania (AP) — A case of suspected mad cow disease has been found in Romanian beef, officials said Wednesday.
Romania's animal health and safety authority said a preliminary test on May 1 indicated that a cow slaughtered at an authorized abattoir was infected with bovine spongiform encephalopathy, or BSE.
It said the carcass has been sent to a British laboratory for further tests and it could be an "atypical form of BSE which appears naturally and spontaneously in cattle."
The officials only revealed the case after Russia decided to ban imports of Romanian beef, citing fears of BSE. It wasn't clear how the Russians learned about it.
They said Romania has not had a case of BSE since 1995 when testing began and there was no risk to public health from the current "isolated case."
BSE is fatal to cows and can cause a fatal brain disease in people who eat tainted beef. It first broke out in the late 1980s in Britain, where hundreds of people fell ill and many died after eating contaminated meat. Over the years, 4.5 million cattle were slaughtered to contain the spread.
Outbreaks followed in Japan in 2001 and Canada in May 2003.
Romania exports up to one million cattle a year, mainly to the Netherlands, Italy, and Croatia.
Tuesday June 10th 2014
http://www.foodsafetynews.com/2014/01/germany-finds-first-mad-cow-case-since-2009/#.U5VeNE1wbIU
Germany has identified a 10 year old cow with BSE. What is extremely worrying is that the cow showed no symptoms of the disease but as it was tested before slaughter was found to be infected with mad cow disease.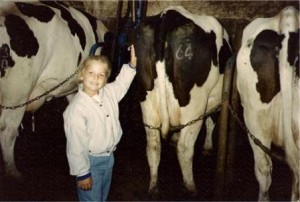 Cows this age are automatically tested for BSE but younger cattle are not, so just how many BSE infected cattle are still entering the human food and medicine chain globally? Cattle showing no symptoms but infected with lethal mad cow disease?
Before BSE there was no such thing as older cattle spontaneously developing BSE as it didn't officially exist before the mad cow disease epidemic that infected at least a million UK cattle and which was exported globally, via our animals, food and medicines.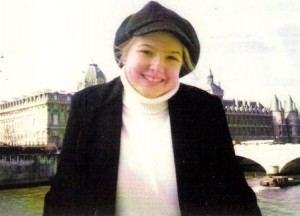 With this blog are photos of Kate
Richer aged 10 years old during a farming holiday in the UK. Also a later picture of Kate a talented music
university graduate who was killed by vcjd aged just 22 years old.
Tuesday 3rd June 2014
There has been a recent official confirmed case of vcjd the human form of mad cow disease, in  Texas USA posted by the Center of Disease Control.(see link and snip below)
http://www.cdc.gov/ncidod/dvrd/vcjd/other/confirmed-case-in-texas.htm
The human form of  Mad Cow Disease will continue to kill, maim and destroy families until we have greater transparency regarding the origins and enablers of this UK man made manufactured disease which has been exported worldwide via food, medicines, and animals.  This latest victim apparently spent time in Europe and the Middle East and the suggestion from the US government is this is where the latest US victim of vcjd contracted Human BSE.
My thoughts are with the victim's family and friends, I am so sorry for their loss.
A few years ago a young woman called Linda from Texas aged 39 with six children died of what her doctor diagnosed as Human BSE. Linda slaughtered cattle for over ten years in a Texas factory called Tyson  which produces beef products that are eaten across America. I believe Linda and the latest victim from Texas are connected and there is/may be a common regional environmental factor involved.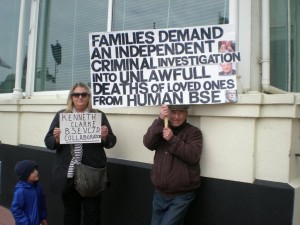 Linda lived and worked in the USA all her life, the American authorities overturned local experts diagnosis of Human BSE, claiming that Linda had died of sporadic CJD aged 39.
Linda's family are not convinced and continue to fight for the truth regarding Linda's untimely death which mirrored all the symptoms and signs of vCJD.  I have communicated at length with Linda's family, friends and medics in the area. There appears to have been a cover-up, Linda's family and young children have been treated with a great deal of disdain by officials  mirroring the intimidation that families affected by vCJD here in the UK receive when they dare to challenge under-reporting of cases of Human BSE.
CDC CENTER OF DISEASE CONTROL Posted June 2nd 2014Laboratory tests have confirmed a diagnosis of variant CJD (a fatal brain disorder) in a patient who recently died in Texas. The confirmation was made when laboratory results from an autopsy of the patient's brain tested positive for variant CJD.CDC assisted the Texas Department of State Health Services (DSHS) investigation of this case and will continue to help confirm further details of the patient's history, including potential source of infection.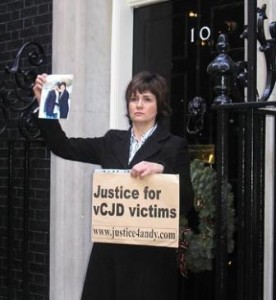 Here is me outside Number 10 Downing Street, I have been refused meetings with Prime Minister David Cameron, he and his government do not wish to examine the true cost of Human BSE to the nation and global communityBelow is a photo of me being filmed at Pitsham Farm West Sussex UK where the first cow was officially diagnosed with BSE December 1984 but it was many years before that information was made public it was kept secret by those I name and shame on this website and the UK Government. .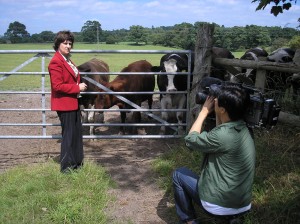 Sunday June 1st 2014UK victims of  CJD continue to grow including a woman aged just 27 years old and an Australian girl with English connections aged 18. There are just too many other victims for me to mention in this short blog.Rising cases of CJD in much younger people is alarming. Whitehall continues to keep victims and their families secret and isolated from each other. Families warned by DOH officials  'your son/daughter is the only one to have this disease', when in fact within a few streets other people are dying of the disease too.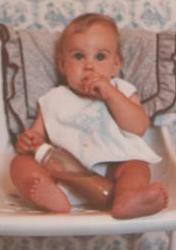 With dodgy accounting the UK Department of Health are moving cases of CJD caused through BSE into various other health columns or shifting cases as statistics to other countries and continents.This under reporting and manipulation of people affected by CJD  by the UK government gives the public no factual or correct indication of the true numbers past and present who have and are succumbing to the human form of mad cow disease.This under-reporting of victims of Human BSE is happening all over the globe.

A site dedicated to USA victims of CJD  has managed to find over 900 members in a few months, many of these victims in their 30's/40′s. Meanwhile cases of dementia in younger people continues to explode we face a global pandemic of dementia, in direct correlation with human exposure to BSE infected material.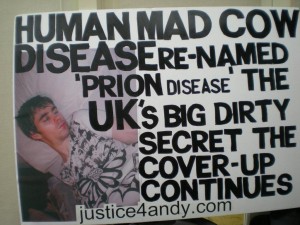 CJD is a ticking health time-bomb that the authorities here in the UK continue to push under the carpet, families threatened not to speak out or even tell their neighbours of CJD diagnosis, victims treated by the UK department of health like guinea pigs to boost funding for government backed scientist and medics.
Currently the UK population continues to receive blood/blood products taken and re-cycled  from thousands of UK blood donors who may silently carry or be incubating Human BSE.
With incubation periods upward 40 years plus, the UK government and ministers know that it will be many years before the true human toll will come to light.
In similar prose that was  used in the 1980s and 1990s by John Gummer, Kenneth Clarke, Margaret Thatcher and all those named and shamed on this website throughout the BSE epidemic, Prime Minister David Cameron's Conservative led government continue to tell us that the UK blood supply is safe. Despite over 100 blood donors being implicated in several people who have gone on to die of vcjd.  Thousands more blood donors are unaware of their ' at risk' status, and so continue to give blood, which is also used to manufacture hundreds of thousands of doses of vaccines.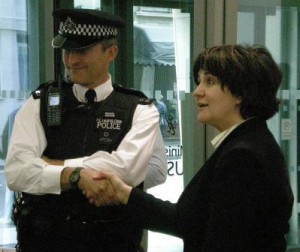 Experts who have given evidence at the current UK parliamentary inquiry into vCJD and safety of blood tissue and organs, have tried without success to discredit my website, evidence, book and findings, in a desperate effort to protect  individual careers, salaries and also to shore up a government policy which has continued to hide the truth about BSE, its on-going dangers and those responsible for this modern day man made deadly disease. The human form of mad cow disease has killed people from every faith, ethnicity, background and career, including the armed forces, police, care workers, teachers, nurses, doctors and consultants. I have a great deal of support from many areas of the public and public sector organisations and for that I am truly grateful.
But, despite the growing victims of Human BSE, officials corrupted by funding opportunities, promotion, financial  gain, over-blown scientific egos have chosen to look the other way, offer selective research, lie and cover-up the truth so that their livelihoods and status is guaranteed. Meanwhile more and more innocent people will continue to die of Human BSE, be pushed aside by Whitehall and dismissed by those in power.
I have no financial, career or funding  gain from my truth telling all I have suffered is more heartbreak and distress, what pushes me ever forward is the memory of my 24 year old Andrew dying of the human form of mad cow disease pleading with me : ' find out who did this to me mum and expose them' and ' this must never ever happen to anyone else.'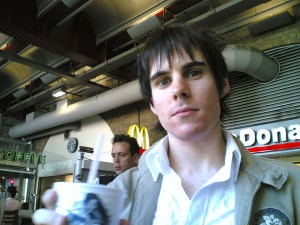 I carry my son always in my heart and will never stop until the truth emerges for public scrutiny and accountability. I want to protect your family from the pain I experience every day due to loosing my son so young  to human BSE an avoidable disease.
Love will conquer all.
"When I despair, I remember that all through history the way of truth and love have always won. There have been tyrants and murderers, and for a time, they can seem invincible, but in the end, they always fall. Think of it–always."
― Mahatma Gandhi
"Facts do not cease to exist because they are ignored."
― Aldous Huxley, Complete Essays 2, 1926-29