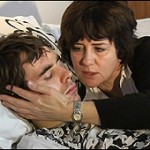 In 2007 my beloved son Andrew died from vJCD aged just 24. Since then I have created a campaign to find out how and why he died and who is to blame for this terrible disease. This is my blog containing much of the material I have collated and the history of the campaign.  
Monday 3rd August 2015
Do we really know what's in our kids food?
Be part of a major film, keep our families safe from the on-going threat of human BSE. As the latest horse meat scandal highlighted – do we honestly know what's going on in our food?
We need  just a couple of thousand pounds to complete our one hour shocking  documentary which will blow the lid on the corruptions and cover-ups in Westminster and globally, that allow large food corporations and pharmaceuticals to dictate government policy.
If you care about the food you eat, the politicians you elect, the scientists you place your trust in….
then support us in our investigative film, for the people by the people.
It will change the way you eat and shop!
Contact: www.justice4andy.com
or  Partickular Films, Hayburn Studios, 23 Burgh Hill Street, Partick, Glasgow, G11 5N
Wednesday 8th July 2015
Check out the new documentary which will reveal, the many secret documents and cover-ups I have discovered, regarding BSE. Corruption within our government that goes right to the top of the establishment.
How millions of us have been exposed to a deadly disease which the UK government condoned, because they put profits of big business and  officials careers before our children's lives and futures. Human Mad Cow disease continues to kill in 2015 and affects us all. View the documentary to find out more.
Cows, cash, and cover ups, investigating variant CJD 2015 and beyond