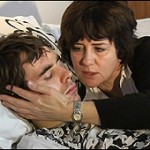 In 2007 my beloved son Andrew died from vJCD aged just 24. Since then I have created a campaign to find out how and why he died and who is to blame for this terrible disease. This is my blog containing much of the material I have collated and the history of the campaign.
Wednesday 12th March 2014
With my blog is a photo taken of me being filmed at Pitsham Farm, West Sussex, where the first UK cows were officially diagnosed with BSE  December 1984. In March 2014 two cows in central Greece are dying of BSE, this deadly disease remains a ticking health time-bomb for the global community.
Two cases of mad cow disease in Central Greece; animals imported from the Netherlands.
Tuesday, March 11, 2014 6:06
A farm in Fthiotida, central Greece, has been placed in quarantine after two cases of mad cow disease were discovered there, almost 10 years since the disease last appeared in Greece.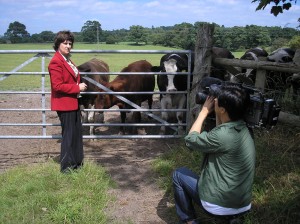 The cases of bovine spongiform encephalopathy (BSE) were found in two dead cows that had been imported from the Netherlands. The animals are thought to be six years old.
No information was available about when the animals were imported from the Netherlands.
BSE can be transmitted to humans who eat food derived from the infected cows, particularly if it contains nervous tissue. In humans, the disease is known as new variant Creutzfeldt–Jakob disease.
Greek Agriculture Ministry said that the farm has been closed off and further tests are being carried out, while a ban on entry and exit of animals and their products from the affected farm has been imposed.
The package of measures issued by the Agriculture Ministry includes also:
1. briefing of the farmer and involved stakeholders for mandatory compliance of all necessary measures to combat the disease.
2. strengthening and intensification of officials inspections and controls of carcasses in slaughterhouses and compulsorily tests for possible presence of the disease before meat and meat-products are given for consumption.
3. Briefing the European Commission on the cases.
BSE can be transmitted to humans who eat food derived from the infected cows, particularly if it contains nervous tissue. In humans, the disease is known as new variant Creutzfeldt–Jakob disease.
sources: ekathimerini, skai.gr
http://beforeitsnews.com/international/2014/03/two-cases-of-mad-cow-disease-in-central-greece-animals-imported-from-the-netherlands-2478574.html
http://www.greece.com/news/1823/Two_cases_of_mad_cow_disease_detected_at_farm_in_central_Greece.html
Wednesday 5th March 2014
Here is the link to a website for vCJD victim GianLuca Squeglia from Caserta in Italy. GIanLuca died aged 32. His parents Maria and Franco with his brother Antonio continue to fight for justice and raise awareness regarding the ticking health time-bomb that is Human BSE, and its on-going consequences to the European and global community.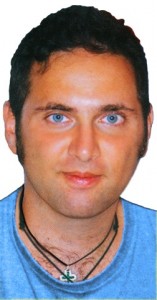 The website features Marias book called 'Nero Su Bianco', her book documents GianLuca's death due to the dreadful man made prion disease. It also features the cover-ups and ground breaking research that Maria continues to examine regarding the human form of mad cow disease and how the authorities in Italy continue to conceal the true numbers of cases of vcjd within the Italian population. With this blog is a photo of GianLuca.
Friday 21st February 2014
The UK Parliamentary Inquiry continues into the safety of the UK Blood supply, tissues, cells and organs in relation to Human BSE. This recent article from The Sun newspaper highlights the dangers, which David Cameron's government ignore at the UK populations peril.
The Sun Thursday 6/02/2014
CJD 'RISK TO BLOOD'
Britain's blood banks are a 'ticking health timebomb' because donations are not properly screened for mad cow disease, MP's were warned yesterday. Variant Creutzfeldt-Jacob Disease .
Its  human form has rocketed in Britain and Europe, campaigners have said – with 32,000 sufferers.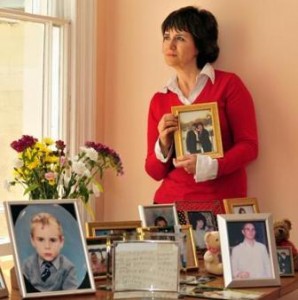 Christine Lord, 55 whose son Andrew 24, is among 177 Brits to die urged a probe and told an MP's hearing: 'Safety measures are insufficient.'
Thursday 6th February 2014
Here are  the links to my witness statement to the Parliamentary Inquiry in Blood, Tissue and Organ safety in relation to vcjd risk. I have been asked to provide more evidence to the Inquiry. I was also interviewed by various media including the BBC.
http://www.parliamentlive.tv/main/Player.aspx?meetingId=14839
Wave 105 interview
http://www.wave105.com/news/local/parliament-for-mum-whose-son-died-of-variant-cjd/
http://lagukane.com/video/mp3/emkCz2hJqso/Vcjd_-_Who_Killed_My_Son_-_Andrew_Black_Christine_Lor
Saturday 1st February 2014
http://www.parliament.uk/business/committees/committees-a-z/commons-select/science-and-technology-committee/inquiries/parliament-2010/blood-tissue-and-organ-screening/
Biography for Christine Lord
Appearing before the Commons Science and Technology Committee, Wilson Room, Portcullis House, Westminster London. between 0915 and 1015 on Wednesday 5th Feb 2014.
In December 2007 Christine Lord lost her only son Andrew Black to vCJD, the human form of Mad Cow Disease. He was just 24 years old.
Since then, as a mother and as a journalist, Christine has investigated the origins of the BSE scandal, and its deadly impact on human health.
Her work also explores the on-going risk posed by contaminated blood and medical equipment and the urgent need for a screening test for blood donors.
Her findings have been the subject of reports and documentaries in the UK and internationally, working alongside broadcasters such as the BBC, MBC, Channel 4, Channel 5, Sky and Channel 7 Australia.
Christine's work has also been featured by national newspapers including The Sunday Times, The Daily Mail and The Daily Mirror.
Her recent book "Who Killed My Son?" was ranked as a number one best seller by Amazon.
Christine remains concerned that research into vCJD and other deadly prion diseases continues to be tightly-controlled by the Department of Health.
A select number of senior UK scientists have a monopoly on all human BSE samples and consequently exercise significant influence on the direction of national and international research.
Christine's work shows that this undesirable situation has contributed to the under-reporting of the number of people affected by the human form of Mad Cow Disease.
She has also recently commissioned independent research from a laboratory outside of the UK which calls into question the widely-stated belief of British scientists that only a certain section of the population have ever succumbed to vCJD.
SCIENCE AND TECHNOLOGY COMMITTEE
Select Committee Announcement
No. 59 (13-14): 30 January 2014
Evidence hearing – Blood, tissue and organ screening
Wednesday 5 February 2014
Wilson Room, Portcullis House
This is the first evidence session of the inquiry.
The first panel will comprise of representatives of blood and blood product users and others directly impacted by blood safety issues.
The second panel will comprise of representatives from a variety of Government and NHS advisory committees on blood safety.
Watch it online at http://www.parliamentlive.tv/Main/Live.aspx
At 9.15 am
·         Mark Ward and Joseph Peaty, Secretary and Head of Publicity, TaintedBlood
·         The Haemophilia Society (witness to be confirmed)
·         Dr Matthew Buckland, Chair of Medical Advisory Panel, UK Primary Immunodeficiency Network, and Consultant Immunologist, Barts Health NHS Trust
·         Christine Lord, Freelance journalist, campaigner and mother of vCJD victim Andrew Black
At 10.30 am
·         Professor Marc Turner, Chair, Advisory Committee on the Safety of Blood, Tissues and Organs Prion Group and Chair, UK Blood Services Prion Working Group
·         Dr Roland Salmon, Acting Chair, Advisory Committee on Dangerous Pathogens
·         Dr Sheila MacLennan, Professional Director, UK Blood Services Joint Professional Advisory Committee
Further evidence sessions will be announced in due course.
Monday 20th January 2014
Extract from Page 24 of my book Who killed my son? Now available on Amazon.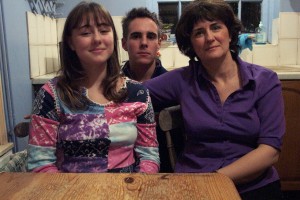 'My children have shown me the real meaning of the word love. I remind myself daily that I will always be the mother of two deeply loved children. I have been blessed with a son and daughter and also the ability to retain my faith in the decency of ordinary people. Since Andrew's death there have been so many helping hands, smiles and kind words from so many strangers who I now consider friends.'
My quest continues……
Thursday 16th January 2014
HEADLINES SKY NEWS
http://news.sky.com/story/1190378/cjd-call-for-widespread-test-to-detect-disease
CJD: Call For Widespread Test To Detect Disease
A mother whose son died from the human form of mad cow disease is appealing for help in developing a widely used test for it.
10:36am UK, Sunday 05 January 201
By Stephen Douglas, Sky News Reporter
MPS have launched an inquiry to check the safety of donor blood after hearing new evidence on the human form of mad cow disease.
The Commons Science and Technology Committee was responding to a study that revealed one in every 2,000 people in the UK could be carrying variant CJD.
Christine Lord's son Andrew died from the disease which causes degenerative brain disorder.
She told Sky News: "Every single minute of the day there was relentless pain and memory loss. He was unable to move, unable to walk and unable to talk. Then he would get light bulb moments where he would ask what was happening.
"The public think it's gone away but it hasn't. Andrew could be any mum's son and unfortunately there will be more Andrews.'
Variant CJD is thought to be caused by prion proteins in the brain.
These infectious agents can clump together and destroy cells which causes holes in brain tissue.
Infected blood transfusions could spread the infectious agent causing CJD
How many people in the UK carry these prions is unclear, but the latest study in the British Medical Journal estimates it could be as many as one in every 2,000.
At the moment donor blood isn't tested for the disease.
Dr Simon Mead, from University College London, told Sky News: "What we fell would be right is to move towards a way to screen people who are silent carriers from blood donation and to identify them prior to organ donation for example. That way the infection wouldn't be spread further."
The Department of Health says it is supporting studies into how widespread vCJD is. It points out there has only been one case in the last three years.
Andrew pictured with his mother, Christine, before he was infected
But Mrs Lord believes more testing is needed.
"When Andrew was ill with vCJD and started to get very ill he said mum find out why I've become so ill and make sure no one else ever gets this," she said.
"He died in my arms and I buried him three days before Christmas in the cathedral where I used to watch his nativity plays. No mother should have to go through that."
According to data released by the Health Protection Agency, 177 people in the UK have died from vCJD after eating contaminated beef.
Cases have tailed off in recent years with none reported last year and only one so far in 2013.
But previous studies have found that many others are harbouring the infection without developing clinical symptoms